About the Allergy and Immunology Fellowship Program
This combined Internal Medicine-Pediatrics training program has been in existence at Virginia Commonwealth University Health (formerly Medical College of Virginia) for several decades. It was ACGME accredited prior to March of 1983, and has remained since that time. The program accepts up to two residents into the program per year. Those trained from 1983 onward have all passed their ABAI certification exam.
Mission
Our mission is to prepare specialists who are well rounded in Allergy & Immunology. These specialists will not only provide expert medical care for patients with allergic and immunologic disorders, but also serve as consultants, educators; being critical in interpreting medical research in asthma, allergic and immunologic diseases.
Duration
The ACGME accredited Allergy & Immunology training period is typically two years in duration, with the exception of the ABIM or Pediatric research tracks, which would extend time in the program to fulfill research requirements. Also, some trainees have been granted, at their request, an additional year of research training beyond the two years of clinical training that enabled them to sit for the certification exam.
Program Certifications
The VCU Health Allergy & Immunology fellowship program is fully accredited by the ACGME.
Overall training is roughly divided into 50% direct patient care, 25% scholarly activity and research, and 25% educational activities. All fellows are adequately trained in system-based practices, professionalism, and patient care, advancement of their medical knowledge, interpersonal and communication skills, and practice-based learning.
Curriculum
The goal of our Allergy & Immunology Program is to provide trainees with a comprehensive experience in allergy and immunology, both in the care of adult and pediatric patients with allergic and immunologic diseases, and in scholarly activities related to this field that are tailored to the interests of each trainee. Clinical training consists of practical clinical rotations, didactic instruction, conference preparation and presentation, and both self-directed and assigned reading. Clinical rotations are designed to provide our residents with the knowledge base and technical proficiency that they will need to become outstanding practitioners of allergy and immunology, and in some cases to pursue academic careers as clinician-educators or research investigators.
Clinical training in both pediatric and adult allergy emphasizes both inpatient and outpatient management of allergic and immunologic disease. The majority of clinical practice is in the outpatient setting, with approximately 600 adult and 800 pediatric allergy outpatients seen in the allergy clinics each month. Active in-hospital consultative practices are provided at VCU Medical Center, with a greater tendency of adult consults versus pediatric volume. Overall contact breaks down to about 55% pediatric and 45% adult patients.

In addition to the routine outpatient and inpatient consultative encounters, fellows are expected to participate in daily rounds on patients with primary immunodeficiency who are being treated with bone marrow transplantation. Elective rotations include bone marrow transplantation, community allergy practice, and rhinoscopy in the otolaryngology clinics. Some cross training in rheumatology is provided, but fellows may additionally elect to participate in adult or pediatric rheumatology clinics.
Ample opportunities are available to pursue basic and clinical research. Each fellow is expected to develop has his or her own research project, in addition to any projects they may have teamed up with the faculty to pursue. Fellows can team up with faculty to work on many different projects.

Basic science research opportunities are available in the areas of mast cell biology and basic immunology. Trainees have participated in studies defining two types of human mast cells, cloning of the gene(s) for mast cell tryptase, and development of immunoassays for tryptase to serve as precise clinical indicators of mast cell involvement in human disease. Active research area also include mast cell as antigen presenting cells, respiratory virus study.

Clinical research focuses on training fellows in principles of clinical research including designing, collaborating, collecting data, interpreting and writing a paper. Clinical research opportunities in asthma, urticaria, immunodeficiency, anaphylaxis, eosinophilic esophagitis, mastocytosis, desensitization and allergic rhinitis are available to fellows.
For two to three months beginning in July of each year, a series of basic lectures is given by the faculty to orient and educate the first-year fellows on the most common conditions seen in the clinics. This also serves as review of potential board material for upper level fellows. First-year fellows also required to attend and pass the graduate-level lmmunobiology course offered by the VCU School of Medicine. Additionally, educational conferences are held on a regularly scheduled basis with attendance required of all fellows and faculty.
Clinical Allergy & Immunology Journal Club – Friday afternoons

Basic Allergy/Rheumatology Journal Club – Friday afternoons

Allergy/Rheumatology Grand Rounds – Friday afternoons

Medical Grand Rounds – Thursday

noon

Pediatric Grand Rounds –Tuesday

noon
A number of additional educational and professional opportunities are available to fellows in the training program at VCU.
Simulation Lab
As part of fellowship training, regularly scheduled sessions are held for fellows in the VCU simulation lab to enhance patient safety and quality care. Examples include treating status asthmaticus and acute anaphylaxis.
Teaching
Opportunities are available throughout the fellowship training years to teach and educate residents and medical students. Fellows are encouraged to participate in and contribute to both pediatrics and medicine morning reports. Fellows are actively involved in teaching the housestaff during the inpatient consultations and as the housestaff rotate through our clinics. Exceptional fellows may be asked to participate in Pediatric and Internal Medicine residency core lectures.
Additional Training
Though the standard training program is two years, fellows with a strong interest in basic science or clinical research are encouraged to apply for funding for third year of training, with time protected for research pursuits.
Community Allergy Experience
Two affiliated faculty members who work in two large community practices offer clinical experiences such as additional allergen extract mixing and clinical teaching.
Conferences
National Conferences
During the two years of training, each fellow will attend both the national conferences (AAAAI and ACAAI) and are encouraged to attend other meetings on the national level (e.g., Clinical Immunology Society) and regional level (e.g., Swineford Allergy Conference). Some funds for travel are provided by a Personal Expense Account, but fellows are strongly encouraged to submit case reports and/or research data in order to apply for travel grants.
Vacation Time
Each fellows is allowed three weeks of vacation per year

Night Coverage
Allergy and Immunology fellows do not take in-house call. Fellows take night call and urgent clinical care questions from home.

Weekend Coverage
Fellows, when on call over weekend, will see new consults at VCU during the day, staffed with attending physician on service.
GME Resident & Fellow Well-Being
GME has established a subcommittee specifically for resident/fellow wellness. A proposal was submitted recently that includes the development of a health coaching network for trainees, increasing access to health care for trainess, expansion of services/resources for trainees such as lunge space/coffee machines/healthy snacks, activities focused on the development of community engagement and a mentoring program. (Learn more)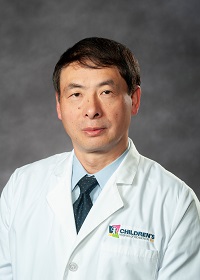 Wei Zhao, MD, PhD, FAAAAI, FACAAI
Program Director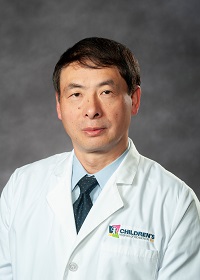 Wei Zhao, MD, PhD, FAAAAI, FACAAI
Program Director
Internal Medicine
Division of Allergy and Immunology
Email: wei.zhao@vcuhealth.org
Lawrence B. Schwartz, MD, PhD
Division Chair
Advanvced Practice Providers
Donna Mitchell, RN, MS, CPNP
Jackie Rudd, RN - Program Coordinator
Class of 2022
Zeeshan Khakwani, MBBS
Medical School: Ayub Medical College
Residency: Temple University/Conemaugh Memorial Medical Center
---
Class of 2021
Balrag Bajaj, MD
Medical School: Virginia Commonwealth University
Residency: Meds-Peds at Virginia Commonwealth University
---
Class of 2020
Farah Khan, MD
Medical School: Ross University School of Medicine
Residency: Pediatrics at Inova Fairfax Hospital for Children
---
Alumni
Alumni
Class of 2019
Jennifer Simonaire, DO
Medical School: Chicago College of Osteopathic Medicine
Residency: Pediatrics at Advocate Lutheran General Hospital
---
Class of 2018
Nicholas Klaiber, MD
Medical School: Eastern Virginia Medical School
Residency: Pediatrics at Virginia Commonwealth University Health
---
Class of 2017
Lachara Livingston, MD
Medical School: University of Florida College of Medicine
Residency: Internal Medicine - University of South Florida Morsani College of Medicine
---
Class of 2016
Elias Akl, MD
Medical School: University of Balamand Faculty of Medicine and Medical Sciences - Deir El-Balamand, North Lebanon
Residency: Internal Medicine - Mount Sinai School of Medicine (EHMC) – Englewood, NJ
---
Class of 2015
Alex Alvarez, MD
Medical School: University of Texas Southwestern Medical Center – Dallas, TX
Residency: Internal Medicine at VCU Health – Richmond, VA
---
Prerequisite
Prerequisite training consists of completion of a residency in Internal Medicine or Pediatrics that would qualify them to sit for the certification exam of the American Board of Internal Medicine or the American Board of Pediatrics. Selection criteria consists of medical school performance, residency performance, USMLE scores, personal interview, ECFMG certification (if applicable), valid visa/green card/permanent residency card (if applicable) and other accomplishments (e.g., research publications) as considered appropriate.
Application
All applicants use ERAS to apply to the program. Interview dates for 2020 are select Fridays beginning mid- September through October. Click here to view a sample itinerary.
Program Director
Wei Zhao, MD, PhD, FAAAAI, FACAAI
Professor and Chief
Division of Allergy and Immunology
Vice Chair for Clinical Operation
Department of Pediatrics
Virginia Commonwealth University
Box 980225
Richmond, VA 23298
Phone: (804) 828-9620
Fax: (804) 628-5856
Email: wei.zhao@vcuhealth.org
Fellowship Coordinator
Cesley Watkins
Box 980509
Richmond, Virginia 23298-0509
Phone: (804) 628-4497
Fax: (804) 828-4926
Email: imfellowships@vcuhealth.org