Welcome from the Program Director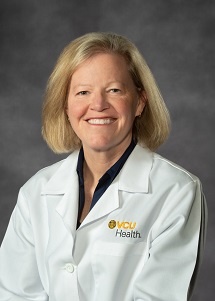 The Division of Pulmonary Disease and Critical Care Medicine is dedicated to fulfilling its mission of excellence in patient care, education and research. The fellowship program is an integral part of this mission, and the division is dedicated to continuing to provide the highest quality training in a challenging yet supportive atmosphere. Graduates from our program have successfully pursued careers across the country in academia, private practice and industry. Both our faculty and fellows have been consistently recognized for their excellence in clinical care, teaching and research both locally and nationally. Our primary training sites include the VCUHealth System (aka VCU Medical Center and/or Medical College of Virginia Hospitals and the VCU School of Medicine) and the Hunter Holmes McGuire VA Medical Center.
The PCCM Fellowship at VCUHealth is fully accredited by the ACGME and provides a comprehensive 3-year training program that is designed to prepare you for a career in Pulmonary-Critical Care, whether that is in academics or in private practice. As the only academic medical center in central Virginia, we see an amazing array of clinical cases, giving our fellows not only the necessary exposure to bread and butter pulmonary and critical care problems, but also to the more exotic disease processes seen in a true tertiary care referral center. Our fellows get plenty of hands on experience, not just in procedures, but in running a team and being a true leader. We are fortunate to have excellent relationships with our colleagues in Thoracic Radiology, Thoracic Surgery, Cardiology, Surgery, Pathology and many of other specialties. This not only improves patient care, but also enhances and expands our educational opportunities.
The next three years will be challenging, exciting, and mentally stimulating (oh, and a lot of fun!). The division is growing in number, opportunities and reputation, taking advantage of the critical care tower, the Center for Adult Critical Care, the VCU Johnson Center for Pulmonary and Critical Care Research, a robust Interventional Pulmonary program, fully accredited Adult CF Center, and a Pulmonary Hypertension Center of Excellence.
Lisa K. Brath, MD
Program Director, Pulmonary-Critical Care Fellowship