Director's Welcome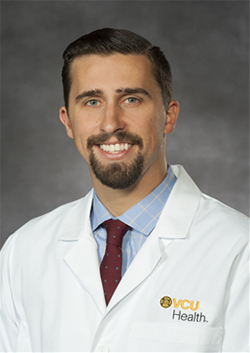 We are genuinely delighted that you have joined us for this short but impactful period in your training. We are looking forward to working with you and regardless of your future career path, we wish you the most exciting, stimulating, rewarding, and transforming experience possible over the coming weeks. The Internal Medicine clerkship will provide you with a solid foundation in clinical reasoning, help you acquire fundamental skills, reinforce and expand your knowledge of the pathophysiology of common adult diseases, and help you develop personally and professionally.
The internal medicine clerkship will be challenging but rewarding as you step onto the adult medicine wards at VCU Medical Center and Hunter Holmes McGuire VAMC. You will be part of a high-performing medical team providing great care to complex patients. To supplement your clinical experiences, the clerkship offers structured weekly conferences and exceptional bed-side teaching by our talented residents, fellows, and faculty.
The Internal Medicine Clerkship and the Department of Internal Medicine take great pride in our educational programs and want you to have the most valuable educational experience possible. Our inpatient attendings are selected for their interest in education and value their time with you. This clerkship is oriented toward adult learners: your results directly correlate with effort. Our faculty will invest their time and talents in helping you on your journey into the world of Internal Medicine, while also pushing you to take ownership for your own learning. We hope that this experience inspires you to learn and experience more of what internal medicine offers.
For those that will be joining the clerkship, you will be granted access to the IM Clerkship Google Drive. This drive contains information that will be useful to you throughout the clerkship. The clerkship directors and administrators have an open-door, rapid accessibility policy. If you have any concerns about the clerkship, your rotations or your own personal learning, please do not hesitate to contact us at any time. We look forward to working with you!
Best of Luck!
Nathaniel Warner, MD
IM Clerkship Course Director
Assistant Professor of Medicine
VCU School of Medicine
Email: nathaniel.warner@vcuhealth.org
and
Patrick Fadden, MD
IM Clerkship Associate Course Director
Assistant Professor of Medicine
VCU School of Medicine
VA Medical Center
Email: patrick.fadden@vcuhealth.org