About the Nephrology Fellowship Program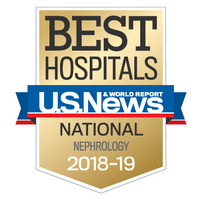 The Nephrology Fellowship Program is a multi-year fellowship allowing for individualized training in clinical nephrology, hypertension, transplantation and basic/clinial research.
In addition to ranking the VCU Medical Center number one in Virginia, US News & World Report ranks the Division of Nephrology as 32nd in the nation for 2018-2019 report.
These are the core values of the Nephrology Fellowship Program:
• Clinical excellence
• Intellectual curiosity
• Scientific Discovery
• Innovation
• Collegiality
• Diversity
• Equity
• Integrity
• Teamwork
Please explore the rest of the Nephrology Fellowship Section to learn more about our program.