Training Overview: Clinical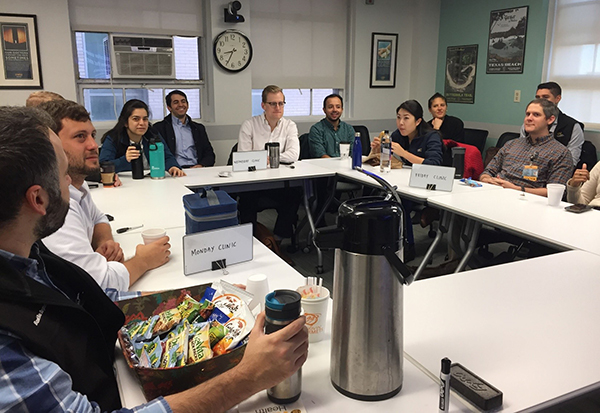 We are proud to train outstanding clinicians. We ensure that all trainees gain the knowledge, skills, and attitudes necessary to provide great care to future patients in any setting. We believe that this includes medical knowledge, the knowledge of social determinants of health and how these impact health, advanced physical exam skills, advanced diagnostic reasoning skills, evidence-based medicine knowledge and skills, a focus on high value care, the ability to work within an interprofessional team, and an understanding and application of science – and, most importantly, the ability to bring each of these pieces in an integrated way to the bedside in a patient- and team-centered manner.
A few highlights of our clinical training program:
Innovative education program – our program was one of the first programs to embrace milestone-based training in our learner-manager-teacher model. We are proud that our residents move through this transition and own their advancement as academic clinician educators by mapping their progress and building their portfolios as they go!
Innovative structures for training – our tandem block schedule is "one of a kind" and was uniquely designed to optimize the balance between training in the inpatient and ambulatory setting ensuring a focused, dedicated curriculum in each of these areas. Our residents have also found that it helps them to optimize their work-life integration – and better prepares them for their ultimate jobs. In addition, our program embraces new modes of education and encourages creativity in our faculty and our residents.
State of the art medical facilities across locations of VCUHealth and McGuire VA Medical Center where the highest quality of care is delivered and recognized with national honors for safety and quality such as the AHA-McKesson Quest for Quality Prize. In these facilities, we serve an incredibly diverse patient population, who present with a widespread spectrum of disease and illness. If you can read about it, you will likely see it! - and more!
Partnering to further innovation in the delivery of clinical care – from our recent work with structured interdisciplinary rounding to pilots in unit-based care, we partner closely with our healthcare team members to model cutting edge care.
Emphasis on bringing science to the bedside using mechanistic thinking – a comfort with asking "why" and seeking to understand the pathophysiology behind clinical presentations and therapeutic interventions is fostered by faculty and through dedicated curricular innovations. Residents and interns engage in deliberate practice of mechanistic thinking during morning reports and on rounds. Our program also has a five-day, offsite Immersive Experience in Physiology Course where end-of-year interns or early second years engage in the scientific process through experiments in physiology with clinical applications.
We are proud to be one of the first programs nationally using a competency-based advancement model for graduate medical education training. Our model is the foundation of our clinical training experience. Our residents move from phases of training as they achieve mastery of milestones for each phase. Each phase is focused on a different set of responsibilities and level of competencies.
Learner – in the learner phase of training, an individual works on basic milestones in patient care. They are supervised directly by upper level trainees and attending physicians. They are challenged to advance their skills in history taking, physical diagnosis, diagnostic reasoning, management, teamwork, systems-based practice but always have the support of a senior to coach them. Our supervisors are trained in "supervised autonomy" as a principle so that learners are not "directed" but coached to grow.
Manager – once a learner reaches competency in all learner-level milestones, they advance to the manager phase of training. In this phase, one works to establish independence in patient care knowledge and skills. Our managers do not supervise learners, nor are they supervised by upper level residents. They work collaboratively on manager-level rotations with attending physicians to establish competence in management of common medical conditions in both the inpatient and ambulatory setting. Our residents consider this the most challenging and most rewarding phase of training as they truly grow into clinical independence in this phase.
Teacher/Leader – once a manager is considered independent in managing most common medical conditions, they advance to the teacher/leader phase of training. In this phase, they continue to gain the necessary experience over time in managing many medical conditions and they work on teaching and leadership skills. Their milestones during this phase are worded as phrases such as "can teach others …", "leads a healthcare team", "coordinates care across…", "role models for others…". It is in this level of training that our residents lead teams on the wards, in the ICUs, specialize in consultative care and serve in advanced roles in the ambulatory practice setting.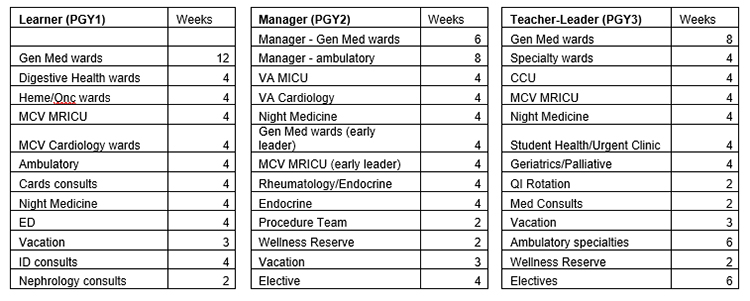 VCUHealth/Medical College of Virginia Hospitals (MCVH)
McGuire Veterans Affairs Medical Center (VA)
Other – Stony Point Ambulatory Practice, Mayland Ambulatory Practice, Short Pump Ambulatory Practice, Community-based sites, International site for International Electives
The VCUHS Ambulatory Curriculum is housed in several of the rotations listed above. During their outpatient blocks, our residents are challenged to develop the clinical knowledge and care coordination skills that they will need to be excellent physicians in the ambulatory setting. In addition to choosing outpatient electives and developing longitudinal patient relationships through their own Continuity Clinic, our residents also participate in several unique rotations.
Longitudinal Ambulatory Curriculum


PGY1: During the learner phase of training, our residents have a four-week block dedicated to the delivery of primary care. Our learners spend time reviewing their own patient panel, investigating the community that surrounds VCUHS and interacting with our various non-MD specialists who provide critical services to augment the care of our patients. (This description should pop up as one hovers over the PGY1 box in figure above)
PGY2: As managers, our residents spend a total of eight weeks in the primary care rotation (part of Core Manager) that incorporates exposure to Adolescent Medicine, Geriatric Medicine, Women's Health or two weeks in community health clinics, and Neurology. (This description should pop up as one hovers over the PGY2 box in figure above)
PGY3: Finally, during their time as teacher-leader, our more senior residents gain independence as providers in the Student Health Clinic and learn to handle the graduated responsibility of Urgent Care, accompanied by at-home call. Senior residents also rotate in outpatient Cardiology, Nephrology, and Gastroenterology clinics. (This description should pop up as one hovers over the PGY3 box in figure above)
Our residents participate in a novel and innovative longitudinal procedure medicine rotation which emphasizes supervision and patient-safety. All procedures are initially taught in the simulation lab by a hospitalist or chief resident who have undergone standardized training. Residents must demonstrate competency in the simulated environment before attempting key elements of the procedure in the clinical environment with patients.
During intern orientation, incoming interns are trained in peripheral IV placement using ultrasound, arterial blood gas sampling, sterile technique, and informed consent.
During July and August each year, second year residents are trained in central line placement, lumbar puncture, and abdominal paracentesis in the simulation lab. Second year residents also rotate on the procedure medicine service and have the opportunity to perform these procedures under direct supervision by an academic hospitalist. After this rotation, if competent, residents may perform or teach junior learners in procedures under direct supervision of a fellow or faculty trained in the standardized model. Senior residents may elect to rotate on the procedure service following the required rotation.
Every six months, the Procedural Competency Committee – chaired by the Procedure APD – reviews the procedure logger, evaluations, and assessments for each resident to determine if the resident has met minimum requirements for graduation and to assign a level of competency (ranging from "able to observe" to "able to perform independently and teach others") in each procedure.
Each resident who enters VCU's Internal Medicine Training Program is assigned a dedicated core faculty advisor who serves as a mentor and coach to partner with residents from the first lunch they share at orientation to the final review of their evaluations at the end of their residency training. Each advisor mentors a cohort of six advisees of PGY1, 2 and 3 residents who serve as a buddy system for their years of training. These dedicated core faculty are trained specifically in competency-based assessment, evaluation, feedback and coaching. They meet with residents regularly throughout the year for retreats, to provide career coaching, identification of potential research mentors and formal semi-annual year review of performance amongst others. Advisors interact with residents regularly when they attend on inpatient services and in the ambulatory setting as well as facilitate conferences.
Below is a typical schedule for weekly conferences.
Ambulatory: This is a case-based, interactive conference presented by an intern or resident and facilitated by an ambulatory attending in a topic in outpatient medicine.
Ambulatory EBM Journal Club: This EBM curriculum guides residents through different types of clinical research articles tobuild foster skills in critically appraising literature to foster effective application to clinical practice.
Inpatient: This is a case-based, diagnostic-reasoning conference for residents on inpatient rotations. A resident presents a case and an attending with expertise in clinical reasoning facilitates a discussion with participants. Interns are invited but not required to attend.
Intern Core Conference: Intern Core Conference includes a yearlong curriculum in core Internal Medicine topics (two hours weekly) and rotating monthly conferences in patient safety, resilience, scholarship or housestaff meetings (one hour weekly).
Grand Rounds: This is a weekly departmental conference highlighting scholarship and innovation within the institution and expert guest lecturers from across the country.
Intern Report: This is a case-based, diagnostic-reasoning conference just for interns on inpatient rotations. An intern presents a case to other interns whilean attending with expertise in clinical reasoning facilitates a discussion. This is a fantastic opportunity for interns to practice diagnostic reasoning and presenting skills among their peers!
Resident Core Conference: Resident Core Conference inlcudes a two-year curriculum in core Internal Medicine topics (one hour of clinical application of guidelines, one hour of evidence-based updates in a content area) and rotating monthly conferences in careers in practice, Balint groups, high value care, or housestaff meetings (one hour weekly).
Midnight Report: This is a case-based, diagnostic-reasoning conference for residents on night medicine inpatient rotations. A resident presents a case the teaching nocturnist facilitates a discussion with participants.
Our unique tandem block schedule was designed by our residents with the following goals in mind:
Separate inpatient/ambulatory responsibilities with dedicated curricula
Provide opportunity for continuity in continuity clinic
Provide excellent coverage for continuity patient panel when on inpatient
Keep inpatient teams together for evaluation, teamwork purposes
Maintain four-week experiences for learning purposes
The tandem block schedule pairs four-week direct patient care inpatient experiences (wards/icu/specialty services – designated as "I" in schematic below) with other experiences (ambulatory, consults, research, electives – designated as A) in an alternating eight-week block schedule. The "A" designation indicates that the resident has continuity clinic five ½ days per week during that rotation. The residents are partnered together in practice partnerships so that one of the partners is always in clinic that week and manages outpatient responsibilities for the patient panels during that time. Residents do not have clinic during "I" blocks.

The schematic below represents two residents' schedules for the first 26 weeks of a year. Each column is two weeks.

A sample intern schedule from this year (during the intern year, block 7 is always inpatient):