Teaching Locations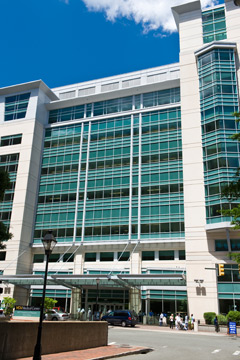 The School of Medicine consists of 700 full-time faculty, including affiliates, assisted by 630 residents and fellows, and more than 700 clinical voluntary faculty.
Programs of instruction and research are conducted on VCU's MCV campus, at the Hunter Holmes McGuire Veterans Affairs Medical Center and at affiliated hospitals. These diverse facilities expose students to the variety of clinical disorders patients experience in the eastern United States. Residents treat patients in state-of-the-art facilities.
The teaching hospital component of VCU Medical Center, MCV Hospitals, includes a number of outpatient clinics. Our medical staff includes MCV Physicians — a 600-physician faculty group practice. The VCU Medical Center is the only academic medical center in Central Virginia and was rated the #1 hospital in Virginia by U.S. News & World Report in 2015.