About the Transplant - Nephrology Fellowship Program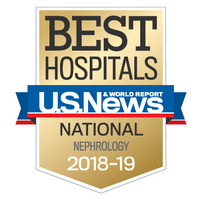 The transplant fellowship offered by the Division of Nephrology is certified by the American Society of Transplantation (AST)/American Society of Transplant Surgeons (ASTS). Our transplant program, the largest in the region, performs over 150 kidney transplants every year. A wide variety of transplant related therapies including kidney exchange, desensitization, ABO incompatible transplants, and HIV and HCV positive kidney transplants are performed.
The Virginia Commonwealth University Transplant Nephrology Fellowship Program provides an opportunity to pursue advanced training in clinical transplant nephrology and to undertake training in basic science research or clinical research. The program is designed for trainees who wish to receive outstanding educational training in order to pursue a career in either academic medicine or private practice.
Your training fellowship involves one year of training that integrates the six core competencies (patient care, medical knowledge, practice based learning and improvement, interpersonal and communication skills, professionalism, and systems based learning). Each fellow will participate in clinical training, teaching and scholarly activities. The training experience includes involvement in all aspects of pre-transplant care including list management, kidney donor evaluations and assessment and acceptance of deceased donor organs, as well as post-transplant care including performing biopsies and management of immunosuppression. The fellows get hands-on training in immunology through rotations in the HLA lab and transplant kidney biopsy assessments with pathology. Dedicated teaching in transplant infectious disease is also provided. Under faculty mentorship, each fellow is expected to participate in at least one research project which will usually result in a presentation at a national or international conference. Our sites of practice include in-patient and continuity clinics at VCUHS.
After one year of clinical training, our goal is for each fellow to have confidence in independently evaluating and managing patients with a wide variety of kidney transplant issues.
Fellowship Goals and Objectives
Fellows will be trained in all aspects of care for the renal transplant patient, including — but not limited to — pre-transplant evaluation, list management, kidney donor evaluation, peri-operative kidney transplant management and post-transplant care including immunosuppression.
You will rotate through transplant nephrology consults at VCUHS, pre-transplant evaluation clinics and post-transplant continuity clinics. You will also have a dedicated HLA lab rotation and a transplant infectious disease rotation.