Lisa K. Brath, MD
Program Director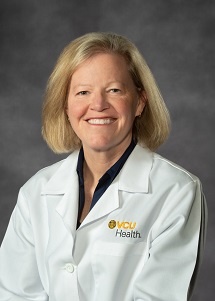 Division of Pulmonary Disease and Critical Care Medicine
Department: Internal Medicine
Email: lisa.brath@vcuhealth.org
Lisa K. Brath, MD is Program Director for the Pulmonary and Critical Care Medicine (PCCM) Fellowship, and the Medical Director of the Unique Pathogens Unit at VCU Health . She is also a Professor of Medicine.

Dr. Brath earned a B.S. in Biomedical Science from Texas A&M University. Dr. Brath received her M.D. from the Unixversity of Texas Southwestern Medical School in Dallas, Texas. She then completed her internship and residency in Internal Medicine and a fellowship in PCCM at MCV Hospitals/VCU Health System. She joined the PCCM division in 1996.

She has been recognized for her expertise both as a clinician and an educator, and has been honored to receive awards for both. She received the MCV Physicians Distinguished Clinician Award, the VCU Leadership in GME Award, as well as numerous teaching awards from the internal medicine housestaff and department. She has also been named to multiple local and national "top doc" lists.
Lisa K. Brath, MD
Assistant Professor
Program Director, Pulmonary Disease and Critical Care Medicine Fellowship
Email: lisa.brath@vcuhealth.org