Gonzalo Bearman, MD, MPH, FACP
Division Chair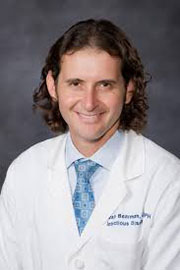 Division of Infectious Diseases
Department: Internal Medicine
Email: gonzalo.bearman@vcuhealth.org
Gonzalo Bearman is Chair of the Division of Infectious Diseases, Richard P. Wenzel Professor of Internal Medicine and Hospital Epidemiologist at the Virginia Commonwealth University Health System. He is a graduate of Colgate University (BA), SUNY at Buffalo School of Medicine and Biomedical Sciences (MD) and Columbia University (MPH). He completed a residency in Internal Medicine and was Chief Resident, both at SUNY at Buffalo. He then completed a fellowship in Infectious Diseases and a residency in Preventive Medicine/Public Health, both at Cornell University. Dr. Bearman is Board Certified in Internal Medicine, Infectious Diseases, and General Preventive Medicine and Public Health.
Since 2003, Dr. Bearman is an attending physician on the Internal Medicine and Infectious Diseases Service at VCU Medical Center. Dr. Bearman served as the Clerkship Director of the VCU M3 Internal Medicine Clerkship (2005 - 2011) and was the 4th year Acting Internship (AI) Director. Dr. Bearman lectures in the M1 Population Medicine Class and M2 Medical Microbiology. He is the course director for both Contemporary Issues and Controversies in Public Health seminar in the VCU Department of Epidemiology and Community Medicine and an M4 Elective on Medicine in Literature.
Since 2005, Dr. Bearman has worked on the VCU Global Health Program through the Honduras Medical Relief Brigade, a medical relief effort bringing medical and public health assistance to rural Honduran communities.
In 2013, Dr. Bearman launched the Medical Literary Messenger, an online magazine for humanities and medicine, where he serves as the Editor in Chief. He serves as a section editor for Current Infectious Diseases Reports and as Editor in Chief of Current Treatment Options in Infectious Diseases. From 2013-2015, Dr. Bearman was the Chair of the Society for Healthcare Epidemiology of America's (SHEA) Guidelines Committee and currently serves as a Board Member for SHEA.
His areas of research focus on the epidemiology of hospital-acquired infections. Dr. Bearman has various industry grants and has published over 100 peer-reviewed publications, multiple invited text books doctors, and is the editor of 3 medical text books.
For more on Dr. Bearman, you can visit his professional website and medical blog here: www.drgonzalobearman.com.
Gonzalo Bearman, MD, MPH, FACP
Professor of Medicine
Chair, Division of Infectious Diseases
gonzalo.bearman@vcuhealth.org