Translational Lung Cancer Research Group (TLCaRG)
Welcome to the Translational Lung Cancer Research Group (TLCaRG) webpage. Please feel to contact us for any info about our members and the research we conduct. We would be pleased to hear from you.
The TLCaRG focuses its research on discovering new strategies for lung cancer detection and the development of RNA based therapeutics. Our research also investigates the role of immunotherapy as an approach for treating lung cancer. Additional areas of investigation include the role of the microbiome in lung cancer pathogenesis and the development of clinically informative biomarkers in the diagnosis and management of malignant pleural disease, lung cancer associated cachexia and COPD.
Research
Learn about ongoing research projects in the TLCaRG
A brief summary of our current research projects are found below.
Projects: Patrick Nana-Sinkam, MD
My laboratory is focused on integrating both genomic and proteomic platforms to discover new biomarkers that may be used in the diagnosis, treatment and surveillance of tobacco related lung diseases.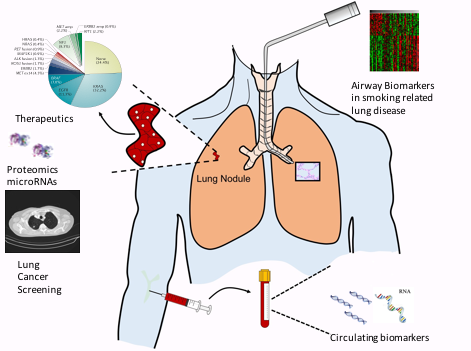 Research Focus 1: One goal of our laboratory is to elucidate the role of recently discovered non-coding RNAs in lung tumor development and progression. We are approaching this through analysis in primary human lung cancers and peripheral blood complemented by allied studies that examine the effects of selective microRNA targeting on cancer cell phenotype.
Focus/Project 2: Our laboratory has been very interested in increasing our understanding of the molecular heterogeneity that exist in lung cancer by utilizing genomic and proteomic platforms coupled with computational modeling. By applying systems biology to human samples, we may identify perturbations of key biological networks that are critical to tumor development and progression.
Focus/Project 3: Examining the role of extracellular vesicles as drivers of cancer initiation and progression.
Focus/Project 4: We are currently pursuing in collaboration with nanoengineering novel platforms for the non-invasive detection and therapeutic delivery of miRNA in lung disease.
Projects: Howard Li, MD
The role of prostacyclin in lung cancer. Prostacyclin is a member of the eicosanoid family of lipid signaling molecules. Using an orthotopic mouse model, targeted pulmonary overexpression of prostacyclin inhibited lung tumor growth. This inhibition was not due to direct effects of prostacyclin on lung cancer cells, but was mediated by CD4+ T cells. Thus, prostacyclin analogues may represent novel agents for the treatment of lung cancer.
The role of the microenvironment in mediating sensitivity to lung cancer immunotherapy. Immune checkpoint inhibitors targeting programmed cell death-1 (PD-1) and its ligand PD-L1 induce tumor regression in a subset of lung cancer patients. In our orthotopic mouse model, anti-PD-L1 therapy inhibited CMT167 lung tumors by 95%. Silencing PD-L1 in CMT167 cells led to smaller tumors that remained sensitive to anti-PD-L1 therapy, whereas injection of CMT167 cells into PD-L1 knockout mice blocked tumor growth. Thus, PD-L1 plays a critical role in both lung cancer cells and the microenvironment.
Projects: Samira Shojaee, MD, MPH
My research is focused on clinical and translational biomarkers of malignant and non-malignant pleural effusions. The goal of our research team is to explore the role of these biomarkers in the understanding of pleural fluid collection pathophysiology, diagnosis and therapeutics.
Research Focus 1: Our team is interested in understanding the role of dysbiotic microbiota in pleural carcinogenesis and its role on the malignant cell microenvironment. We strive to achieve this goal by defining the microbial communities of the pleural space in health and disease state. To accomplish this goal we collaborate with the laboratory of Jack Gilbert of UCSD in San Diego and Oxford Respiratory Trials Unit of Najib Rahman in England.
Research Focus 2: In Collaboration with Dr.s Acunzo and Nana-Sinkam of Patrick Nana-Sinkam Lab, we are studying the role of extracellular vesicule miRNA in the pleural fluid of patients with metastatic pleural adenocarcinoma in comparison to non-malignant pleural effusion.
Research Focus 3: Our team is home to IRB approved large data-bases of patient with pleural effusion collected prospectively and/or retrospectively to evaluate the clinical biomarkers of pleural effusion, the role of fluid drainage and pleural procedures in symptom palliation, and focus on patient-centric outcomes.
Projects: Mario Acunzo, PhD
The role of RNA (A to I) editing in Lung Cancer. microRNA Adenosine-to-Inosine A to I editing modifications result dysregulated in Lung Cancer, and it can cause changes in microRNAs function and expression. Thanks to bioinformatic analysis of small RNA Next Generation Sequencing (NGS) data, we progressively uncovering the meaning of microRNA A to I editing in Lung Cancer while also investigating the microRNA editing phenomenon as possible biomarkers of lung cancer progression.
Design of artificial microRNA as therapeutics in Lung Cancer. There are several genetic mutations responsible for lung cancer phenotype. While some of these mutations are targetable using specific drugs, some others still result "Untargettable" like mutated KRAS. We have recently developed a method for specifically target point-mutated KRAS mRNA in Lung Cancer using artificial microRNAs. This method reduces the off-targeting effects sparing the wild type KRAS mRNA targeting. Another goal of this project is to design artificial microRNA for targeting multiple selected targets for knocking down some crucial pathways in Lung Cancer.
Our Team
Meet the members of our research team
Publications
Learn more about our work