Welcome to the Sime Lab
Welcome to the Sime Laboratory. We invite you to learn more about us from this web site and please feel free to contact us anytime. We would be pleased to hear from you.
Our laboratory focuses on identifying pathogenetic mechanisms underlying lung disease so that we can speed the identification and development of new and exciting therapeutics. Diseases we study include lung scarring (fibrosis) and smoke and other toxicant induced lung inflammatory diseases such as chronic bronchitis and emphysema (COPD).
Our laboratory studies are translational in nature with our work bridging in vitro studies to in vivo models of human disease and patient studies. We have also been involved in both investigator-initiated and pharma sponsored clinical trials, and are fortunate to have been funded continuously by the NIH as well as Department of Defense, the American Lung Association, industry and philanthropy.
An important mission of the lab is to help train the next generation of basic, translational and clinical researchers. We are fortunate to collaborate widely across the institution, nationally and internationally and have a team-based approach to problem solving. Our trainees have been supported by NIH training grants including NIH T32s, F and K awards and are enjoying successful careers in academia, industry and government. Our trainees include graduate students, clinical fellows and post-doctoral fellows. All are welcome!
The Sime Lab is currently looking for graduate students, post-docs and fellows with an interest in our research. For more information contact Dr. Sime.
Mechanisms of Pulmonary Fibrosis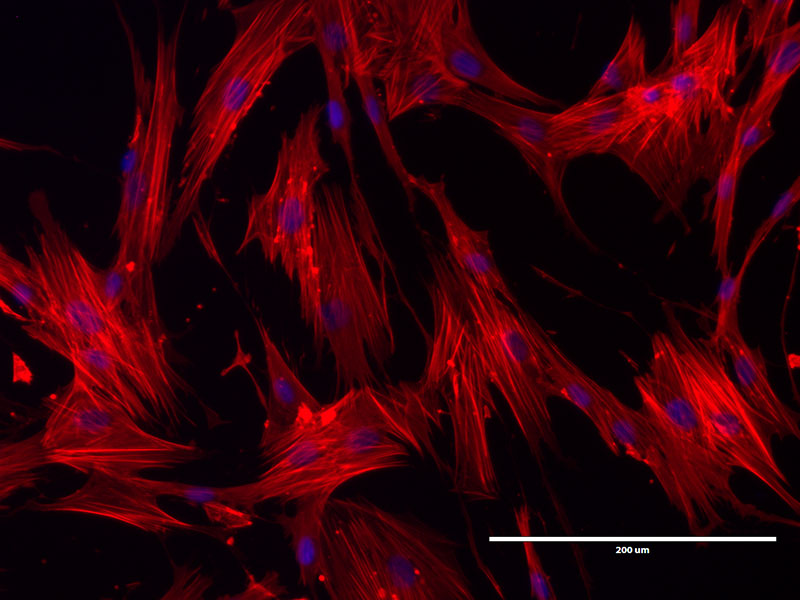 Fibrosis (also called scarring) is estimated to be important in about 45% of human deaths. It is the result of a dysregulated uncontrolled wound healing response. When scarring occurs in vital organs the results can be devastating. Pulmonary fibrosis is a progressive disease with a shorter survival time than lung cancer. Patients with lung scarring develop shortness of breath, cough, disability and sadly sometimes succumb to these disorders. Fibrosis can occur without an identifying cause (idiopathic pulmonary fibrosis) or can be the result of dust inhalation, irradiation, exposure to toxicants and drugs and can occur with autoimmune diseases such as rheumatoid arthritis and systemic sclerosis.
Our laboratory is NIH and industry funded to investigate the mechanisms of lung fibrosis. Specifically, we are interested in the role of matrix (the stiff glue of the scar tissue and especially cross-linking enzymes called tissue transglutaminases), abnormal metabolism (glycolysis) in cells within the lung and aspects of biomechanical tissue stiffness and stretch. To address these different aspects of fibrosis we have available primary human cells, in vivo models of disease and patient samples. We utilize cellular, genetic, lipidomic and metabolomic and physiologic approaches to interrogate pathways and collaborate with experts in big data and machine learning approaches to assist in some of the complex analyses.
Lung Inflammation and Resolution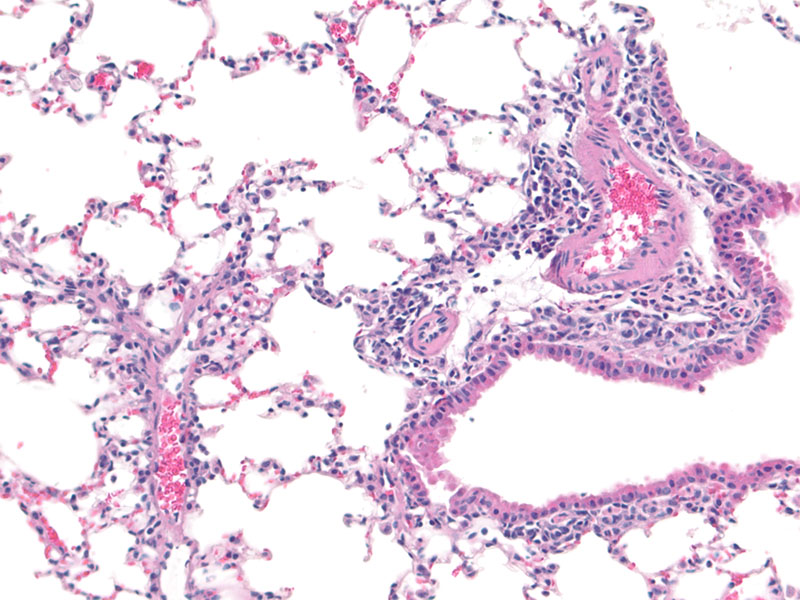 Inflammation occurs in organs following an insult and underpins much of human disease including lung diseases such as asthma, chronic obstructive pulmonary disease (COPD, chronic bronchitis and emphysema), cystic fibrosis, and some aspects of lung cancer. While we know much of the pro-inflammatory pathways that drive disease, our understanding of the resolution of inflammation is much less well understood. This is important as speeding resolution is likely an important new therapeutic option. In the last few years we have some to understand that resolution of inflammation is an active process. It requires complex cellular interactions and production of distinct mediators. Some of these mediators are derived from omega 3 and 6 fatty acids and include resolvins, protectins and maresins. We are examining how these mediators and pathways may be abnormal in patients with COPD and other lung diseases, and hypothesize that these SPMs may be exciting therapeutics for inflammatory disease. Further, we are very interested in understanding the complex interplay between lung infections, inflammation and resolution as many patients with lung disease develop infective exacerbations of their disease leading to morbidity, impaired quality of life, hospitalizations and economic costs. We use patient and control primary cells, in vivo models, pathologic assessments, physiologic measurements and state of the art lipidomics, cell biology and genetics to address our hypotheses.
Our research will allow us to understand why people who smoke suffer persistent lung damage even after quitting, and to understand why smokers and ex-smokers are at increased risk of lung infection. We will also study new potential therapies to repair lung damage and restore normal immune responses. Our long-term goal is to design therapies that, in combination with quitting smoking, will improve health and reduce disease in former smokers and people exposed to second-hand and environmental smoke from other sources (Biomass and Burn Pits).
Alumni
Graduate Students at the University of Rochester: (PhD mentor unless otherwise noted)
Ramil Sapinoro: 2001-2002

Heather Burgess: (MSc) 2002-2004

Randi Potter: 2003

Pauline Chugh: 2004

Heather Lakatos-Ferguson: 2005-2008

Jennifer Head: 2007-2009

David McMillan: (MSc) 2007-2010

Christopher Hogan: 2008-2009

Keith Olsen: (MD/PhD) 2008-2011

HsiMin Hsiao: 2010-2015

Amali Epa: 2011-2015

Amanda Croasdell: 2011-2016

Claire McCarthy: 2011-2017

Jennifer Judge: 2012-2017

Parker Duffney: 2012-2018

Lindsay Wahl: 2013-2015

Shannon Lacy: 2014-2017

Ashley Rackow: 2017-2019

Abdul Karim Embong: 2018-2019

Tyler Bell: 2018-2019

Mackenzie Palmer: 2018-2019
Post-doctoral fellows at the University of Rochester: (PhD)
Ajit Kulkarni, PhD: 2007-2013

Samira Kiani, MD: 2008-2009

Ramil Sapinoro, PhD: 2008-2009



Undergraduates:
Elizabeth Levy: (2009-2012)

Shikha Gupta: (2009-2010)

Robert Fulton: (2010-2011)

Adelaide Weidner: (2018)
Clinical Trainees:
Kate O'Reilly, MD: (2001-2002)
Matt Lowry, MD: (2001-2003)
Jin Yang, MD: (2001-2003)
Louis Eugene Daugherty, MD: (2002-2004)
R. Mathew Kottmann, MD, MS-CTR: (2005-2007)
Michael Gurell, MD: (2007-2009)
Rami Salibi, MD: (2011- 2012)
Ramzy Hourany, MD: (2011-2012)
Justin Weis, MD: (2012-2014)
Deirdre Colgan, MD: (2013-2016)
An Official American Thoracic Society Workshop Report: Use of Animal Models for the Preclinical Assessment of Potential Therapies for Pulmonary Fibrosis.
Jenkins RG, Moore BB, Chambers RC, Eickelberg O, Königshoff M, Kolb M, Laurent GJ, Nanthakumar CB, Olman MA, Pardo A, Selman M, Sheppard D, Sime PJ, Tager AM, Tatler AL, Thannickal VJ, White ES; ATS Assembly on Respiratory Cell and Molecular Biology.
Am J Respir Cell Mol Biol. 2017 May;56(5):667-679. doi: 10.1165/rcmb.2017-0096ST.
PMID: 28459387
Inhibition of transglutaminase 2, a novel target for pulmonary fibrosis, by two small electrophilic molecules.
Olsen KC, Epa AP, Kulkarni AA, Kottmann RM, McCarthy CE, Johnson GV, Thatcher TH, Phipps RP, Sime PJ.
Am J Respir Cell Mol Biol. 2014 Apr;50(4):737-47. doi: 10.1165/rcmb.2013-0092OC.
PMID: 24175906
The Sime Lab has ongoing collaborations with other research teams around the world and in Virginia, including George Mason University and Fairfax Inova Hospital. Our funding sources include the National Institutes of Health, Industry, Philanthropy and Private Foundations. We gratefully acknowledge the support and friendship of the Pulmonary Fibrosis Foundation and our patients and their families, who make our research meaningful.