Welcome to the Winn Research Lab
Lung cancer is the leading cause of cancer deaths worldwide with non-small cell lung cancer (NSCLC) attributing to many of the cases diagnosed (90%). Despite advancements in the area of surgery, chemotherapy, and radiotherapy, the five-year survival among lung cancer patients is less than 15%. Smoking has always been at the forefront in the field of lung cancer and more than half of those diagnosed with cancer are former smokers. Despite smoking cessation programs, the increased risk developing lung cancer among this population remains high throughout one's lifetime, emphasizing the need for more effective and novel molecular therapies for this at-risk population.
The Winn Lab goals are to understand the molecular basis of signaling pathways and mechanisms by which oncogenes and tumor suppressors regulate tumor initiation and tumor progression in animal and human models of lung cancer. The studies, using cutting edge techniques, are translational in nature to garner information in hopes to identify novel lung cancer biomarkers to develop new therapeutic treatments. In addition to the basic science, the lab is also interested in racial disparities surrounding lung cancer by defining the genetic, proteomic, and metabolomic differences among various racial/ethnic groups with differing survival outcomes related to lung cancer.
The Winn Lab has been fortunate to have continuous funding through the NIH and Veterans Affairs and fosters many collaborations among various institutions at the national and international level.
Research
Learn more about our cutting edge research
The Role of Wnt7A in Lung Cancer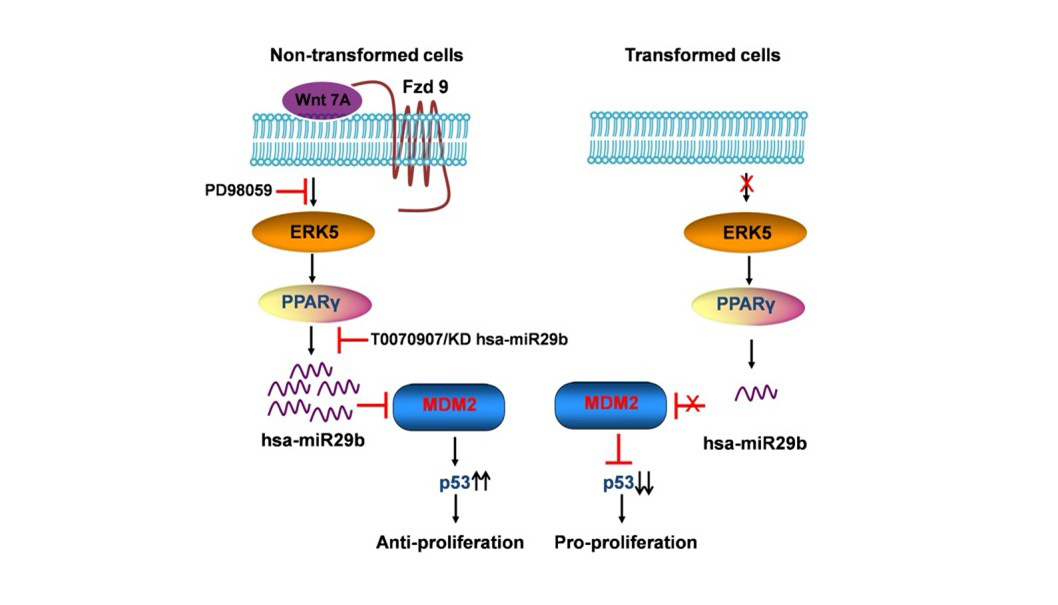 The dysregulation of the canonical and non-canonical Wnt signaling pathways has been a common theme in many types of cancers, most notably mediated by the stabilization of β-catenin in the canonical pathway to drive tumor progression. Several Wnts have been shown to be upregulated in Non-Small Cell Lung Cancer (NSCLC) tissue and cell lines. However, we were the first to identify that Wnt7A was downregulated in lung cancer and played a critical role in the maintenance of normal epithelial phenotype, independent of β-catenin. It is through a seven-transmembrane receptor, Frizzled-9, that Wnt7A reverses epithelial-mesenchymal-transition and transformed cell growth, re-establishes cellular polarity, and targets downstream tumor suppressor genes such as PPAR-gamma and Sprouty-4. We have also identified that Wnt7A is methylated in a subset of lung tumors and involved in cellular arrest through the targeting of genes involved in the senescence pathway. We continue to expand our research on this novel role of Wnt7A and explore its value as a possible future therapeutic approach for the treatment of lung cancer. Towards this end, we are currently testing the efficacy of Wnt7A in reducing lung cancer progression using the form of a small molecular nanoliposome in our in vivo lung tumor models and lung cancer patient-derived organoids.
The Role of KH-Type Splicing Regulatory Protein (KSRP) in Lung Cancer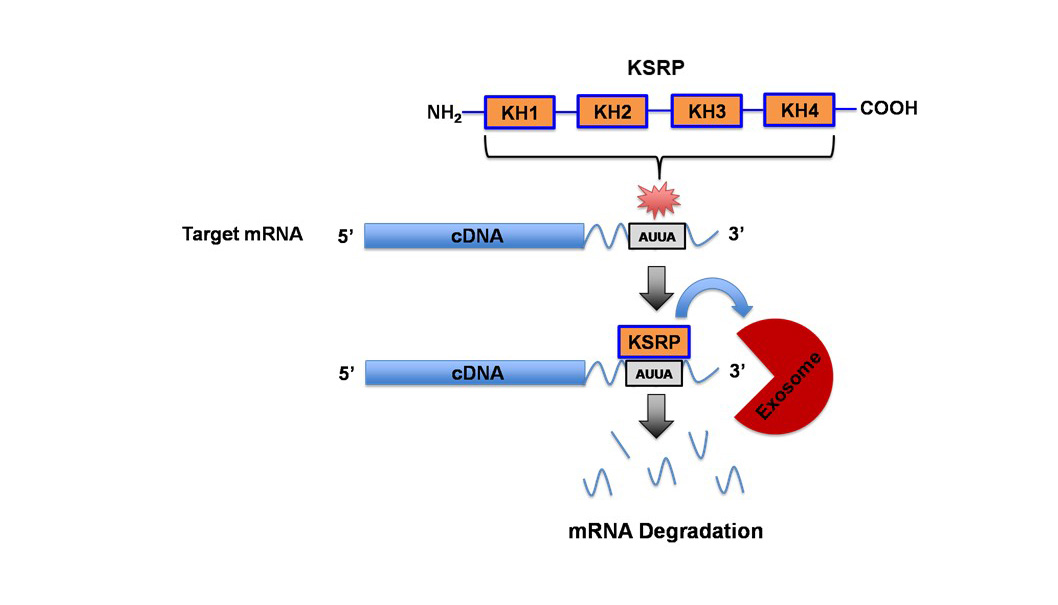 AU-rich elements are found in transcripts encoding proteins that regulate inflammation, transcription, cell proliferation, RNA metabolism, development, and cellular signaling; all of which play important roles in tumorigenesis. KSRP is an AU-rich element RNA binding protein that specifically binds and recruit's RNA decay machinery to ARE-containing transcripts, thereby, targeting them to degradation. Our laboratory was the first to define a novel role for KSRP in lung cancer. It is robustly upregulated in lung cancer patient samples and promotes cell proliferation, migration/invasion, and transformed cell growth in NSCLC cell lines. We have demonstrated that mutations in the KRAS oncogene results in upregulation of KSRP and that deletion of KSRP reduces lung tumor burden in a KRAS mutation-induced lung cancer model. Our goals for this project are: 1) elucidate the mechanisms of KSRP upregulation by mutant KRAS, 2) identify KSRP targets in lung cancer and 3) identify small molecule inhibitors of KSRP. These studies will lead to potential therapeutics for lung cancer patients with KRAS mutations by inhibiting the functions of KSRP.
The Role of Potassium Voltage-Gated Channel Modifier Subfamily F Member 1 (KCNF1) in lung cancer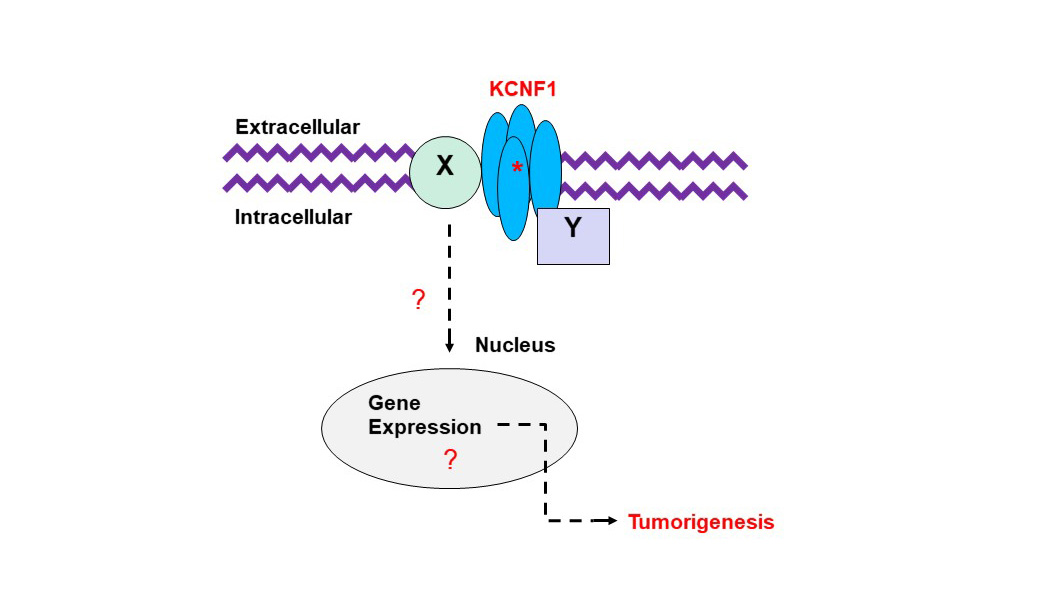 Voltage-gated potassium (Kv) channels regulate cell excitability and cell proliferation. Expression of Kv channels is dysregulated in many types of tumors including lung cancer, leading to the interest of targeting them in cancer patients. Ion channels have been extensively studied in cancer biology where the potassium ion channel family has long been known to have altered expression in lung tumors. However, past attempts of treating cancer with various potassium ion channel-blocking agents have proven to be disappointing, as most of these inhibitors directly or indirectly affect the electrophysiological properties of excitable cells, e.g. myocytes and/or neurons, which are crucial to the functions of the cardiac and nervous systems. Our laboratory discovered an increased expression of a unique "electrically silent" Kv channel, (KCNF1), in lung cancer. We demonstrated that KCNF1 drives transformed cell growth and is important to maintain the basement membrane integrity of NSCLC cells. Our goals for this research are: 1) identify the mechanism of how KCNF1 functions in the lung, 2) identify KCNF1 targets in lung cancer and 3) identify small molecule inhibitors of KCNF1. These studies will lead to potential therapeutics for lung cancer patients by inhibiting the functions of KCNF1.
Our Team
Meet our research group
Publications
Learn more about our work
Lysocardiolipin acyltransferase regulates NSCLC cell proliferation and migration by modulating mitochondrial dynamics.
Huang LS, Kotha SR, Avasarala S, VanScoyk M, Winn RA, Pennathur A, Yashaswini PS, Bandela M, Salgia R, Tyurina YY, Kagan VE, Zhu X, Reddy SP, Sudhadevi T, Punathil-Kannan PK, Harijith A, Ramchandran R, Bikkavilli RK, Natarajan V. J Biol Chem. 2020 Jul 30:jbc.RA120.012680. doi: 10.1074/jbc.RA120.012680. Online ahead of print. PMID: 32732285
---
Detection of Promoter DNA Methylation in Urine and Plasma Aids the Detection of Non-Small Cell Lung Cancer.
Liu B, Ricarte Filho J, Mallisetty A, Villani C, Kottorou A, Rodgers K, Chen C, Ito T, Holmes K, Gastala N, Valyi-Nagy K, David O, Gaba RC, Ascoli C, Pasquinelli M, Feldman LE, Massad MG, Wang TH, Jusue-Torres I, Benedetti E, Winn RA, Brock MV, Herman JG, Hulbert A. Clin Cancer Res. 2020 May 19. doi: 10.1158/1078-0432.CCR-19-2896. Online ahead of print. PMID: 32430478
---
Advocating for a "Community to bench model" in the 21st century.
Tossas KY, Watson KS, Colditz GA, Thomas CR, Stewart JH, Winn RA.EBioMedicine. 2020 Mar;53:102688. doi: 10.1016/j.ebiom.2020.102688. Epub 2020 Feb 27. PMID: 32114395 Free PMC article. No abstract available.
---
PRMT6 Promotes Lung Tumor Progression via the Alternate Activation of Tumor-Associated Macrophages.
Avasarala S, Wu PY, Khan SQ, Yanlin S, Van Scoyk M, Bao J, Di Lorenzo A, David O, Bedford MT, Gupta V, Winn RA, Bikkavilli RK. Mol Cancer Res. 2020 Jan;18(1):166-178. doi: 10.1158/1541-7786.MCR-19-0204. Epub 2019 Oct 16. PMID: 31619507
Wnt7a induces a unique phenotype of monocyte-derived macrophages with lower phagocytic capacity and differential expression of pro- and anti-inflammatory cytokines.
Wallace J, Lutgen V, Avasarala S, St Croix B, Winn RA, Al-Harthi L. Immunology. 2018 Feb;153(2):203-213. doi: 10.1111/imm.12830. Epub 2017 Oct 12. PMID: 28872671
---
K-homology splicing regulatory protein (KSRP) promotes post-transcriptional destabilization of Spry4 transcripts in non-small cell lung cancer.
Bikkavilli RK, Zerayesus SA, Van Scoyk M, Wilson L, Wu PY, Baskaran A, Tang K, Raheem S, Samuelson BA, Reddy NM, Reddy SP, Cool CD, Kosmider B, Avasarala S, Winn RA. J Biol Chem. 2017 May 5;292(18):7423-7434. doi: 10.1074/jbc.M116.757906. Epub 2017 Mar 8. PMID: 28275056
---
Novel Role for γ-Catenin in the Regulation of Cancer Cell Migration via the Induction of Hepatocyte Growth Factor Activator Inhibitor Type 1 (HAI-1).
Sechler M, Borowicz S, Van Scoyk M, Avasarala S, Zerayesus S, Edwards MG, Kumar Karuppusamy Rathinam M, Zhao X, Wu PY, Tang K, Bikkavilli RK, Winn RA. J Biol Chem. 2015 Jun 19;290(25):15610-20. doi: 10.1074/jbc.M114.631820. Epub 2015 Apr 29. PMID: 25925948
---
Wnt7a is a novel inducer of β-catenin-independent tumor-suppressive cellular senescence in lung cancer.
Bikkavilli RK, Avasarala S, Van Scoyk M, Arcaroli J, Brzezinski C, Zhang W, Edwards MG, Rathinam MK, Zhou T, Tauler J, Borowicz S, Lussier YA, Parr BA, Cool CD, Winn RA. Oncogene. 2015 Oct 16;34(42):5317-28. doi: 10.1038/onc.2015.2. Epub 2015 Mar 2. PMID: 25728679
Contacts
Winn Research Lab