Greetings from the Chair – Patricia J. Sime, M.D., FRCP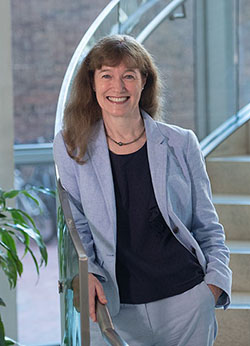 As we closed the door on 2020 and welcomed 2021, we once again celebrated our amazing VCU Department of Internal Medicine.

One of the most exciting events in recent months was our successful virtual fellowship match, which demonstrated the resilience and creativity of program directors and residents. The interview season was a testament to the adaptability of the times, with all interviews for fellowship positions conducted virtually. The program directors and residents alike demonstrated their resilience and creativity. Applicants discovered our wonderful community and training programs through photos, videos, virtual lunches and online meet-and-greets. At the end of the season, more than two-thirds of the residents in our graduating class of 2021 (23 out of 33, chief residents included) matched into fellowships starting July 1, 2021. Eleven of the graduates will be staying in VCU fellowship programs. We are also quite excited by the success of our fellowship programs in the match, recruiting incoming fellows from across the U.S.
In addition, we are proud that all of our graduate medical education programs, the core program and all 15 accredited fellowships once again received full accreditation from the Accreditation Council for Graduate Medical Education.

The winter saw the number of patients with COVID-19 hospitalized at the VCU Medical Center surge to levels more than twice our prior peaks. The department rose to the occasion, and I am so incredibly proud of our teams. The residents, fellows and faculty graciously accepted rapidly evolving and shifting needs — from the opening of new ambulatory consult, floor and ICU services; disruption of team structures and assignments; operationalization of the system's vaccination efforts; the education of patients-providers and our community related to infection control; and the coordination of system-wide staffing. Combining our clinical and scholarship missions, our department has been, and continues to be, front and center of several national clinical trials including the anti-viral Remdesivir, as well as investigator-initiated studies. We are making an impact far beyond our walls, and this opportunity and our excitement is shared with all of our clinical and research colleagues.

With such determination, collaboration and ingenuity, there is truly nothing we cannot accomplish and no challenge we cannot overcome together. Looking forward to the wonderful things ahead.

Warm wishes,


Patricia J. Sime, M.D., FRCP
Chair, Department of Internal Medicine
William Branch Porter Professor of Medicine
Virginia Commonwealth University