VCU Internal Medicine Immersion Experience in Physiology (IEP) Course
By Saher Randhawa, Program Manager
Office of Educational Affairs, Department of Internal Medicine

In the spring of 2014 Drs. John Nestler (then Chair of Internal Medicine) and Stephanie Call (then program director) sat down to enjoy a vision-setting dinner meeting. During this meeting, John Nestler shared ideas for creating an experience for trainees to "dive into mechanistic thinking". He framed his thoughts from a conversation that he had shared with a Chair from another institution, one in which they had created a "physiology course." Ironically, that week, Dr. Call had been invited to consult with that other institution to create a faculty development program to teach "physiology on the fly." The conversation took off, ideas flew, and the two left the dinner committed to creating an "immersion experience" in physiology and mechanistic thinking for VCU Internal Medicine graduate medical education trainees.
Five years later, that dream is an absolute reality. VCU Internal Medicine offers a twice annual Immersion Experience in Physiology (IEP) course for Internal Medicine residents. The course's mission is to teach through science experimentation in applied physiology. Residents get a chance to participate in experiments to stimulate intellectual curiosity among participants and encourage appreciation and incorporation of physiology into their clinical and teaching roles.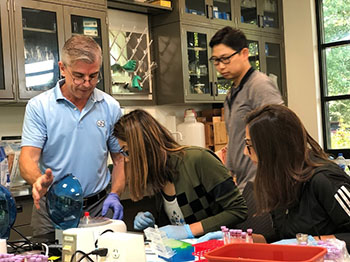 The VCU Immersion Experience in Physiology (IEP) has been under development since that dinner in 2014. Initially, seven core faculty members were identified and trained in the concepts. In the fall of 2017, the first successful pilot was conducted at the Mountain Lake Biological Station in Pembroke, VA. It was modeled after a similar program run by Beth Israel Deaconess Medical Center at a lab in Bar Harbor, Maine.
Dr. Michael L'Heureux, M.D. and Co-Course Director of the IEP program states, "as medical education becomes more and more condensed, some things have been dropped from the curriculum. One thing that we feel is critical to the development of a well-rounded physician is to have some hands-on lab experience. It is through this interactive discovery, that we hope to remind our residents of the scientific process, specifically making and testing hypotheses, that is truly the essence of medicine and patient care."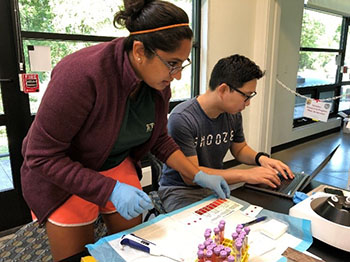 The IEP course takes residents away from their clinical duties to immerse them in a course where they perform scientific experiments to reacquaint them with basic physiology through experiments on themselves. Through the course, students obtain a better understanding of human disease processes, but also encourage mechanistic thinking and intellectual curiosity that they can apply in their practice for the betterment of their patient care.
Audrey B. Jernigan, 2019-20 Chief Medical Resident, who coordinated the Immersion Experience in Physiology Courses for the 2019-2020 year participated in the pilot as a second-year resident in Fall 2017 and then again in the Spring of 2019 as a third-year resident. She expressed how she "was impressed how the residents challenged each other as they worked to explain the results of their experiments and thoughtfully presented these results to colleagues and faculty. It was a joy to watch the residents grow in their thought process, spend time with faculty and light up with the rediscovery of their love for science. They have brought this spirit back to VCU and I see it in the way they interact with patients, each other, and the questions they ask in morning reports."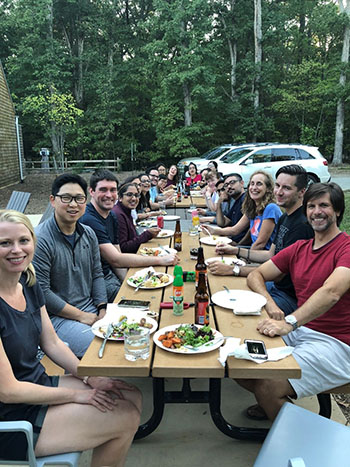 The program is now held at the VCU Rice Rivers Center. It involves a full immersion experience for the residents where early mornings are filled with sunrise hikes, bird watching or yoga and evenings are filled with dinner with the faculty, time around the campfire or star gazing. Each day of the course is outlined with conducting experiments, scientific presentations and more.
Jernigan expressed, "I am thankful for John Nestler, Stephanie Call, Michael L'Heureux and the many others who made this experience possible for our residents. I am thankful that our new chair of medicine, Patricia Sime took the time to come to the Rice Center and experienced an evening with us. Lastly, I am thankful to be a member of the VCU community where we have passionate, dynamic, ambitious leadership and are committed to scientific excellence, intellectual curiosity and challenging ourselves to be better life-long students, teachers, scientist and physicians."