Welcome from the Chair - Dr. Patricia Sime, VCU Department of Internal Medicine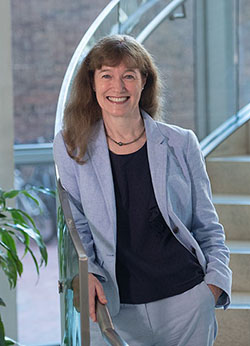 As I complete my first year as Chair of the Department, I want to start by thanking all of my colleagues for their dedication, talents and service and for making me feel so welcome at VCU. No one could have predicted the events of this year as our faculty, staff, trainees have served on the front lines of the SARS-CoV-2 pandemic. Much has been asked and delivered by us a Department. We have set up urgent ambulatory clinics in Nelson, advised our colleagues and community, developed new models of care and patient monitoring, exploded telemedicine, and delivered outstanding and compassionate care on the floors and in the ICU, and in nursing homes. Our clinical trialists have led exciting clinical trials related to SARS-CoV-2, offering unique opportunities to our patients. Our educators have developed new ways to deliver education to our medical students, residents, and fellows who have, in turn, been crucial to our SARS-CoV-2 response. I have watched amazing acts of generosity and great resilience and fortitude from so many. I am both grateful and humbled.
We have also witnessed heartbreaking acts of violence and faced the reality of racism and injustice in our country. As we have struggled with these images, we have also come together as a Department to listen and to develop strategies to ensure we address injustices and promote inclusion and diversity in our Department so we can best serve our patients and community. This is our mission!
Our faculty, staff and trainees are critical to our clinical and academic missions and we were thrilled this year to recruit 33 new faculty, including 8 of our graduating fellows. Our residency and fellowship programs are thriving, and we have been very fortunate to recruit talented, compassionate and engaging trainees. We were excited this year to expand many aspects of our scholarship mission including a new NIH T32 training program in cardiovascular medicine. Our faculty and trainees have more than published 800 manuscripts and scholarly works this year bringing national and international prominence to our Department and to VCU and we have developed 88 funded projects supported by the NIH, industry and foundations.
U.S. News & World Report has also recognized VCU Medical Center as the No. 1 hospital in the Richmond metro area for 10 years in a row. In its newly published 2020-21 "Best Hospitals" ranking, VCU Medical Center also ranks as the No. 2 hospital in Virginia, and among the top 50 in the country for cardiology, heart surgery and urology. Please read more via the article here: https://www.vcuhealth.org/news/usnwr-rank.
While there are many challenges ahead, I am thrilled to be a part of the Department's journey as we serve our patients, our community and our academic missions. Stay well, stay connected and above all take care of your loved ones and each other.
Warm wishes,
Patricia J. Sime, MD FRCP
Chair, Department of Internal Medicine
William Branch Porter Professor of Medicine
Virginia Commonwealth University