Incoming Residents and Fellows – DOIM 2020-21
Incoming Residents and Fellows – DOIM 2020-21
By: Saher Randhawa, Program Manager
Office of Educational Affairs, Department of Internal Medicine
Residency Program: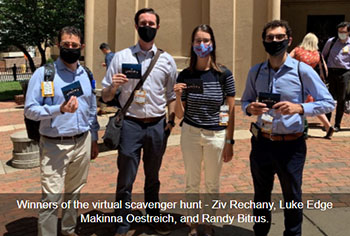 The residency program welcomed a new intern class this June from all over the world. With modifications to accommodate social distancing, they underwent all elements of the traditional orientation. During a virtual get-to-know-you bingo hosted by chief residents, the new interns shared their accomplished backgrounds; they are musicians, athletes, former teachers and business owners, scientists, world-travelers and more! Interns enthusiastically participated in a simulated day on the inpatient wards, utilizing telehealth and mannequins to practice bedside rounding techniques in a safe environment – creatively made possible by the VCU Center for Human Simulation and Patient Safety. They learned about the community of Richmond and the patients they will serve through a virtual scavenger hunt and learned to perform basic bedside procedures at the Hunter Holmes McGuire VAMC simulation center. Following orientation, the new interns were prepared and excited to start in the clinical environment in July!
We are so excited to train the well-rounded internist of the future as competent, caring, compassionate and confident doctors in the practice of Internal Medicine. We will focus on five pillars of competency in training – clinical, scholarship, teaching, leadership, resilience. By developing the essential knowledge, skills, and attitudes in all pillars, our graduates are well-prepared to take their next career steps whether entering practice, pursuing further degrees or training, or entering a specialty. Importantly, our residents will tell you that they are challenged daily in a collaborative and supportive environment. We are so proud to train the internists of the future and excited to share our innovative programs this year. Welcome to the new recruits!
Check out below what some of our incoming residents had to say about why they're excited to be at VCU and what some of our chief residents had to say about why they're exciting for the incoming class:
"I knew that VCU IM would provide rigorous clinical exposure and that I could learn from some top educators but what sold me was the focus on wellness. You can tell that the program leadership really wants people to thrive and not just survive residency. They are actively innovating the curriculum to optimize the resident experience and I have been impressed with how they are leaning into social media as a learning medium. With one month under my belt I can confirm that the support is very real even during these stressful times and I am as excited as ever to grow and learn with VCU." – Andrew Hayes, M.D., Internal Medicine PGY1
"I grew up close to Richmond, and quickly learned that VCU was one of the best hospitals in Virginia. That fact was confirmed firsthand when I rotated here as a medical student. I was truly impressed with the organization, from the wealth of resources and opportunities to the exceptional attendings that were fully invested in teaching and mentoring. I truly consider it a privilege and blessing to have the opportunity to train at VCU Medical Center." -Royce Kim, D.O., Internal Medicine PGY1
"It is a special time for our VCU community to recognize the intern class. They are incredibly bright and motivated! I am inspired by their enthusiasm and ability to embrace patient care with wonder and compassion." -Leigh Johnson, M.D., Chief Resident, Internal Medicine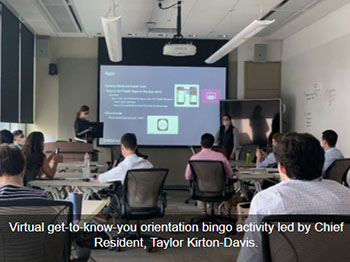 "I've been most struck by the sheer enthusiasm the incoming residents have had for any opportunity to learn and practice medicine. It makes me even more excited to contribute to their education especially with use of the SIM lab at the VA. Not to mention the fact that I've already had several excited interns join to Resident QI council!" -Adnan Khan, M.B.B.S., Chief Resident, Internal Medicine
"We are so excited to work with the new class of residents at VCU! Their enthusiasm for medicine, and their poise during these unprecedented times, is inspiring to us all. I am thrilled to be a chief resident at VCU, where learning is a truly a team sport! We are lucky to have an extremely collegial environment at VCU that enables learners at all levels of training to work together to provide exceptional patient care while fostering a true passion for the practice of medicine. Working and learning in this environment encourages me to bring my best to work every day! – Michael Sternberg, D.O., Chief Resident, Internal Medicine
Fellowship Programs:

On July 8, 2020 we held a Covid-19 friendly Fellowship Meet and Greet for all our new fellows at The Boathouse at Rockett's Landing here in Richmond, VA. Program directors from all 20 plus fellowship programs were in attendance along with Dr. Patricia Sime, Chair of the Department of Internal Medicine, and Dr. Stephanie Call, Associate Chair of Education. Guests had plenty of room to space out and socially distance with indoor and outdoor space to mingle and network. Appetizers and drinks were served and various fun facemasks were worn! This year we have 43 new fellows joining us in our various specialties from Cardiology to Rheumatology and they are joining us from all over the United States and ready to become experts in their areas. Not only do we have some returning fellows doing a second rotation, we also have various residents that graduated this year and are staying with us to do fellowships. We are excited for another year of rich clinical experiences and varied academic opportunities for our learners!
Check out below what some of our incoming fellows had to say about why they're excited to be at VCU:
"I'm excited to be at a large academic center with advanced transplant, cardiovascular and orthopedic procedures, delivered to a diverse, and often, underserved patient population. From my attendings, to nurses and ancillary staff, everyone has been incredibly welcoming. I'm happy to be here!" -Julie Boatman, D.O., Infectious Disease Fellow
"I learned about the VCU cardiology fellowship program during ACC 2019 where I saw VCU fellows won the ACC jeopardy competition and became national champions. I was intrigued, learned more about the program and subsequently interviewed here for my fellowship training. On my interview day, my program director Dr. Kalahasty said to me, "focus on internal medicine during rest of your residency and don't worry about cardiology because we'll teach you that here at the VCU." I loved his words. Additionally, with the unique combination of excellent clinical training, cutting edge technology, research opportunities, and the camaraderie I witnessed during my interview day, VCU was a natural choice. I am loving my time here and am excited to see what next 3 years are going to bring." -Abhishek Chaturvedi, M.B.B.S, Cardiology Fellow
"I'm a GI PGY-4 (first year GI Fellow) coming from Washington, DC where I did my Internal Medicine residency at Georgetown University Hospital. I'm thrilled to be at VCU (my first choice for GI/Hepatology fellowship)! I love VCU because of its collegial atmosphere and the ability to work alongside and be trained by phenomenal, world renowned faculty who are doing cutting edge research. Not to mention that Richmond is a culturally rich city with an amazing food scene!" -Nikki Duong, M.D., Gastroenterology and Hepatology Fellow
"As an incoming first year GI fellow, I am excited to be at VCU because of it's positive, supportive, and academic culture. From our attending leadership, to the co-fellows, to each member of the endoscopy suite, fellow's clinic, and administration, everyone at VCU has extended the warmest of welcomes. My first-year colleagues and I look forward to all that the next 3 years will bring!" -Irma Hashmi, D.O., Gastroenterology and Hepatology Fellow
"I have felt welcome and am excited to work with staff and faculty with such different backgrounds across the Endocrine division". - Maria Gabriela Negron Marte, M.D., Endocrinology Fellow
"VCU and Richmond, as historically and scientifically relevant and important as they are, have their strength in diversity. Did you know that the discovery of MHC genes was done by one of our own, Dr. Baruj Benacerraf, an immunologist, who was a Venezuelan-American with Moroccan-Jewish descent where MCV was the only medical school to offer him admission. I am excited to be a small part of such historical place." -Zeeshan Khakwani, M.D., Allergy and Immunology Fellow
"During my fellowship interview trail, the program at VCU stood out, and I'm excited to be a part of it. I'm looking forward to becoming a great physician for the patients in my chosen field, as well as taking some time to enjoy the beautiful area!" – David Shoemaker, M.D., Rheumatology Fellow