Greetings from the Chair – Patricia J. Sime, M.D.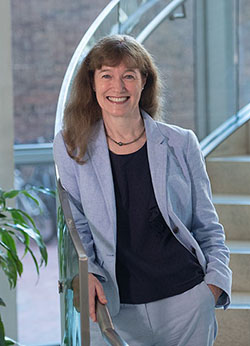 Every year, June and July bring a sense of promise and hope as we graduate new internists and internal medicine specialists and we welcome a new class of residents and fellows. After such a challenging year, this year seemed even more special.
In June, more than 70 physicians graduated from our 20 training programs. We also celebrated our teaching faculty members who dedicate so much time and effort to training, supporting, mentoring and coaching these young physicians. Please see our website for graduation highlights, the graduation booklet and the full ceremony video. We are incredibly proud of our graduates and our faculty members.
We met our new trainees in late June when they arrived for orientation to prepare for the start of their program. This year, we welcomed 59 residents including 33 categorical, 20 preliminary medicine, four medicine-pediatrics and two emergency medicine/internal medicine trainees. They came to VCU from 33 medical schools across the country including nine trainees from VCU and 22 from other Virginia schools. This is an incredibly bright group of trainees with diverse representation and entering qualifications above the national average, and we are so excited to train them.
We also welcomed 40 new fellows. Again, they came from all over the country representing 30 different residencies, with 12 from our own Internal Medicine residency program. They are incredibly accomplished with an average of 16 scholarship activities per fellow prior to entering fellowship. We also brought in our first cardiology research track fellow; this NIH-funded T-32 program is an exciting step as we look to open similar tracks in other specialties over the next few years. The creation of this program was led by Greg Hundley, M.D., and Gautham Kalahasty, M.D.
There is much to be excited for as we look ahead to the fall and winter. Our new trainees bring wonder, joy, excitement and hope. They inspire us as we look to innovation in our education, our research and our clinical programs. We are lucky to be a part of their wonderful journey.
Warm wishes,

Patricia J. Sime, M.D., FRCP
Chair, Department of Internal Medicine
William Branch Porter Professor of Medicine
Virginia Commonwealth University