VCU Internal Medicine Fellowship and Residency Scholarship Highlights
By Saher Randhawa, Program Manager
Office of Educational Affairs, Department of Internal Medicine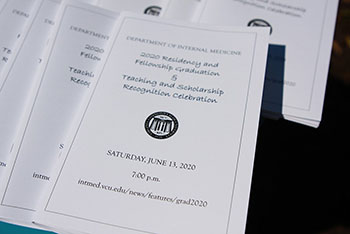 Each year our residents and fellows publish or present over 100 pieces of scholarly work. They are supported by an enthusiastic and talented group of faculty members who devote the time and effort needed to ensure the success of the trainees in their research projects. Our trainees were absolutely prolific in posters, abstracts and publications, presenting from local meetings, such as the Resident and Research Day to national meetings, such as the American College of Physicians-Internal Medicine Society.
Please see the following publication of our 2019-2020 Graduation Booklet to see what they've accomplished: https://drive.google.com/file/d/1jyuEXbpsDWqssLWVYl-TJvz47l_iID_y/view.