New curriculum addresses equity in patient care
The VCU Internal Medicine residency program has made training in health disparities a priority for its residents thanks to an innovative curriculum led by Becky Miller, M.D., and Sarika Modi, M.D. Leigh Johnson, M.D., a past chief medical resident, was also critical to the program's inception.
"This curriculum is integral to our program mission of training well-rounded, compassionate and competent internists," says Miller who, along with Modi and Johnson, will present the program at the fall 2021 Association of Program Directors in Internal Medicine meeting.
Johnson adds that "health disparities recognition and health equity education are foundational to caring for ourselves and each other."
The health disparities curriculum is longitudinal, meaning residents engage in a set of focused experiences throughout their three years of training at VCU. The intentionally designed curriculum supplements the everyday experiences and teaching that occur in the context of patient care. The aims are to promote cultural awareness and teach residents to identify, apply and reflect on concepts pertaining to health disparities and equity in their everyday practice.
During their intern year, residents are introduced to the city of Richmond's demographics, neighborhoods and history. In January, they participate in a group activity to deepen their understanding of the social challenges faced by those living in poverty and the impact on their patients' health.
Feedback on this experience has been extremely positive. One participant described the program as a meaningful exercise that "re-established some ideas and understanding of what dynamics exist when living in poverty." Another said it "helped me to understand the complexities of poverty and how much juggling is involved in basic survival. [I] can understand how health would fall to wayside in many cases."
The program continues the second year with eight two-hour small-group sessions focused on health disparities, implicit bias, motivational interviewing, the history of prejudice in medicine, community outreach, social determinants of health, and micro/macro aggressions. All sessions are taught by internal medicine faculty.
One resident enjoyed the training "because it reminds us what the patients have gone through [and] teaches us equity over equality."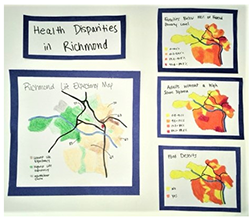 Residents also complete a reflection — in a medium of their choice — about a patient encounter that impacted their perspective on health disparities. Residents have completed poems, short stories and drawings with such themes as racism in medicine, homelessness, implicit bias, and social determinants of health. Residents may participate in a monthly conference series on specific health disparities in different populations in their second and third years.
"[The curriculum] allows us to treat patients as a whole person instead of just a disease process," one participant said, "and take social context into consideration when making treatment decisions."