Office of Educational Affairs, Department of Internal Medicine
On July 1st, 2020 Dr. Stephanie Ann Call stepped down from her role as the VCU Internal Medicine Residency Program Director, a position that she has held since October 11th of 2004. Dr. Call was recruited by Drs. Richard Wenzel (then Department Chair) and Michael Edmond (then Associate Chair for Education). Dr. Call remembers, "I was so inspired by the energy, the enthusiasm, the passion for education and for the training programs … I got an immediate sense that VCU was a place that fostered innovation and 'out of the box' thinking … I knew that I had to come here to work for and with these amazing people!"
Dr. Call's 16 year stretch as program director started with a 'bang' as she stepped right into an ACGME accreditation site visit in her first two weeks, a visit that she led successfully as she has led all accreditation site visits since that date. She remembers fondly, "I think they let me do it just to see if I could! And we did! … but, honestly, it was a great way to start; I immediately got a sense of the talent, skill and dedication of our faculty members and trainees as we worked together to get through the site visit. And it has been a privilege to work alongside those talented people to shape our program ever since."
Over the past 16 years, Dr. Call has introduced innovation after innovation into the training program. These include the annual Residents as Teacher retreat, the twice annual physiology course for residents, the Research for Residents curriculum, the competency-based advancement model (Learner-Manager-Teacher/Leader), a curriculum in wellness and reflection and the unusual Tandem Block Schedule. And there is so much more! She has developed and grown a talented team of 10 associate program directors, 12 core educators, 5 chief residents and an army of skilled teaching faculty members who, as she says, "move everything forward and really think through how we train the well-rounded internist for the future."
Over 480 internists have graduated from the core program under Dr. Call's leadership. And another 300 trainees have trained in the preliminary medicine training program during this time. These trainees have benefitted from her passion, her drive, her commitment. Dr. Call is recognized by the residents and the students for her teaching skills which she is continuously honing through her work in faculty development and with the Stanford Clinical Teaching Program. Dr. Call has received countless resident-selected teaching awards during her tenure. She has also received the School of Medicine Irby-James Award for Excellence in Clinical Teaching, GME Leadership Award, the VCU Distinguished Teacher Award and the Enrique Gerszten Faculty Teaching Excellence Award, the School of Medicine's highest teaching award.
The impact that Dr. Call has had on the training program is difficult to summarize. She is one of the most recognized program directors in the country, having received the ACGME Courage to Teach Award, the AAIM Distinguished Medical Educator Award, and having participated in writing groups for the AAMC Core Entrustable Activities for Entering Residency and the ACGME Milestones 2.0.
But … what Stephanie Call loves to do most is to teach … and to learn … with and from the students, the residents, the fellows, the patients, her colleagues. On her final day as program director, her email read …
I am so thankful for having had the privilege to serve in this uniquely wonderful position at such a uniquely innovative institution and in such a department that really "gets" and supports education. It has been an honor to serve you, the faculty members, fellows, and residents, as we have been able to shape a program that is nationally recognized. More importantly, we have been able to shape a program that focuses on what is important - training well-rounded, compassionate, caring, confident internists who excel in the knowledge, skills and attitudes needed to provide excellent care to future patients. We attract people who resonate with the core values of intellectual curiosity, humility, compassion, innovation, transparency, diversity ... people who come here to be their best every day in serving our community and in learning.
I am humbled daily by you. Our residents, fellows and faculty are inspiring. I have learned so much from you. I am a better person for working with you in this role.
Thank you. Thank you for teaching me. Thank you for pushing me to be a better PD and a better person each day for the past 16 years. Thank you for always being open to thinking outside the box - and for always respecting me enough to give me honest feedback on my own performance and on how we can push this program to the next level.
This department and this program are truly special.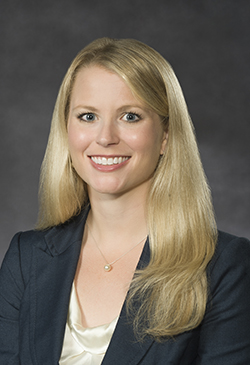 Dr. Call then introduced the VCU Department of Internal Medicine new residency program director, Dr. Becky Miller…
And, I am thrilled that I have the opportunity to stay on to support our new PD, Dr. Becky Miller. It will be a privilege to support Dr. Miller in my role as Associate Chair for Education while we conduct a national search to fill that position and then as a part time faculty member.
Dr. Miller is a talented clinician educator who is poised to push our program in new directions while valuing the traditions of excellent internal medicine training that are a hallmark of this program.
As many of you know, Dr. Miller is a graduate of our own residency. She came to our program in 2012 after completing her medical school training at EVMS. We were immediately impressed with her commitment to learning, her passion for internal medicine and her interest in teaching. We were fortunate that she accepted a position as chief resident in 2015-2016, during which time she created a curriculum in resilience and helped to expand our digital story curriculum. We were again thrilled when she accepted our offer to stay on in the residency program in the summer of 2016 when she accepted a position as Associate Program Director for Curriculum as well as a lead role in wellness in our training program and a position as a hospitalist. She has been a key leader in our program, department, and health system ever since.
Dr. Miller has invested in her own development in medical education, completing her Teaching in Medical Education Faculty and Fellows Program, Graduate Certificate in Medical Education in 2019. She has developed expertise in key medical education areas, including wellness and resilience, procedural competency, reflection, curriculum development, and medical education research. She is nationally recognized for her work in wellness, resilience and reflection and has given national presentations, invited presentations and published in these areas. She currently leads curricula in several of these areas in our own residency program and has easily given over 100 talks or seminars or facilitated sessions in our program or other VCUHealth programs in these key areas or clinical medical topics over the past four years.
Dr. Miller is highly regarded as an excellent educator and leader. She has been recognized in receiving a faculty travel grant for leadership training, an award for a recent poster focused on fostering mechanistic thinking through a physiology course in a residency, and several teaching awards, including a departmental award for excellence in innovation in teaching (resident selected) and the Department of Internal Medicine Faculty Excellence in Teaching Award.
Dr. Miller will be working with our incredibly talented program leadership team, our innovative and enthusiastic Chair of Medicine, our dedicated teaching faculty members and fellows, and our inspiring residents to lead our program forward. It will be exciting to see the program develop!