Todd Gehr, MD
Department Vice - Chair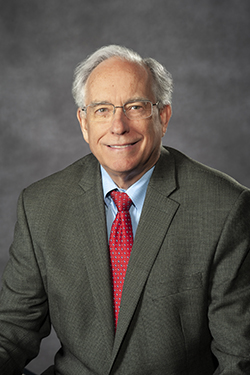 Chair, Division of Nephrology
Department: Internal Medicine
Email: todd.gehr@vcuhealth.org
Address/Location:
BOX 980160
Richmond, VA 23298
Dr. Todd Gehr currently is the Vice-Chairman of Internal Medicine and Chairman of the Division of Nephrology. Dr. Gehr received his undergraduate training at Purdue University in Chemical Engineering and went on to receive a Masters Degree in Chemical Engineering. He received his MD from West Virginia University Medical School in Morgantown West Virginia. After completing his Internal Medicine residency at Upstate Medical Center in Syracuse NY he went on to a Renal Fellowship at the Medical College of Virginia Hospitals of Virginia Commonwealth University. Since 1987 he has been on the faculty of MCVH of VCU and is currently a Professor of Medicine. Dr. Gehr is the Medical Director of the RAI/VCU Dialysis unit and Physician Director of the VCU Home Dialysis Program. Dr. Gehr is also on the Board of Directors for the Mid Atlantic Renal Coalition (Network 5).
Research interests include renal pharmacology, animal models of ckd progression and ckd related hypertension, the use of biomarkers in transplantation and care of ESRD patients. Current interest involves the use of the 5/6 nephrectomy rat and mouse models of CKD. Of particular interest has been the delineation of mechanisms of renal protection, particularly using curcumin as one such agent that seems to ameliorate the rate of ckd progression. Active collaboration with investigators within the Department of Internal Medicine and in the Department of Pharmacology and Toxicology occur. Another focus has been the development of an animal model of hepatorenal syndrome through active collaboration with the Hepatology Division. Multiple areas of clinical investigation include novel treatments for acute kidney injury, the use of biomarkers to diagnose renal allograft rejection, novel treatments of hypertension, delineating hemodynamic and renal effects of paracentesis in patients with cirrhosis, and the impact of daily dialysis on dialysis patient outcomes. Dr. Gehr has received numerous teaching awards from Medical Students and Internal Medicine Housestaff and has published over 75 articles.
Dr. Gehr and his family have lived in Richmond for over 20 years. Lynne, his wife, is an Anesthesiologist at VCU and they have two daughters. He and his wife enjoy skiing, sailing, fishing, hiking and scuba diving.