Director's Message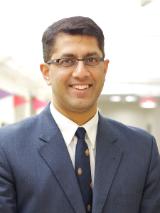 Nauman Chaudary MD, FACP, FCCP
Director, VCU Adult Cystic Fibrosis Program
I was attracted to treating patients with Cystic Fibrosis when I read about it in the Robbins textbook of Pathology during Medical School. The discovery of the CFTR mutation in 1989 opened avenues for new research and treatments. This enthusiasm led me to present a Noon Conference on Cystic Fibrosis, a disease that was not foremost in the minds of my fellow Internal Medicine residents. My interest in CF continued into my fellowship training in Adult Pulmonary and Critical Care at West Virginia University. There, I requested to participate in the outpatient and inpatient Cystic Fibrosis program with Dr. Kathy Moffett, Director of Cystic Fibrosis Center, which was optional to Fellows in training. It was here that I realized that CF is more than a disease process to be read about in textbooks, but is the daily reality for an increasing number of adults.
As I started my career, I progressively got more absorbed in this patient population and came across most talented and enthusiastic group of individuals that provided me the fuel to keep working until a cure is found. I have been managing adults with cystic fibrosis for many years now. I have participated in and enjoyed many CF Foundation events. I was awarded the program for adult care excellence (PACE) award by the CF Foundation in 2011 to help achieve my goal of providing best possible care to all adults with cystic fibrosis. My move to Virginia has been very rewarding; for myself, I am excited for the opportunity to direct the Adult CF Program at VCU, and for my family, I am excited for the opportunity for my daughter to receive a strong education in the area.
Building and Strengthening An Excellent Adult Cystic Fibrosis Program
We are building a Adult Cystic Fibrosis Program that has broad-based clinical and scientific expertise, meeting the challenge of successfully diagnosing, treating, teaching, and performing research to understand and control all of the potential complications of CF. For outpatient care there will weekly full day Cystic Fibrosis Clinic with the Core Team present. Affiliated CF Specialists will be utilized as appropriate, but future plans are to establish CFRD Clinic at Mayland, CF Gastroenterology Clinic, Reproductive Clinic and CF ENT Clinic.
With the median age of survival steadily rising, CF is a life-long problem and the best survival and best health comes when CF Care is delivered in a Center of Excellence providing continuity of care by a team of expert caregivers from the moment of diagnosis. While adults with Cystic Fibrosis have different medical needs than children with CF, the Adult CF Program must work in tandem with the Pediatric Program to ensure seamless transition to a Care Team of experts ready to care for adult health needs as well as the later complications of their CF.
Partnering With Patients
Not only is communication within the institution critical to the success of the Adult Program, but communication with our patients and their family support system will be critical to provide opportunity for our patients to partner with our Care Team in their care. We have built this web resource for Adult CF patients which will provide information on the Adult CF Clinic, the Medical Center, specialized clinics to manage complications, prescription renewal information, care coordination in between visits, and access to relevant CF resouces.
Building A Strong Team
In order to provide comprehensive care to the adults in Virginia with cystic fibrosis, the Care Team must extended beyond the Core Team. I will develop and identify committed Adult CF Ancillary team to include CF clinical Nurse coordinator, CF Lung Transplant coordinator, Clinical Psychologist, Clinical Research Nurse coordinator, Dietician, Genetic counselor, Patient care coordinator, Respiratory Therapist, Licensed social worker, Pharmacist. Ancillary support staff will be added to include CF Program Clinical office specialist, CF Database Manager, PFT Lab Manager. As we continue to partner with our patients, we will form a Patient/Partner/Caregiver Advocacy and Advisory Council that will ensure that our care is exceptional while remaining patient and family centered. As a part of our partnering with our CF community, to the Adult Program will hold an Educational Conference each year with updates on CF related topics and research with statewide audience. Our team will be active in community events supporting our residents in Virginia with cystic fibrosis and we will work closely with the National Cystic Fibrosis Foundation, as well as the Virginia Chapter of the Foundation.
Restructuring Care
On inpatient side I want to begin to standardize care. The first step is already undergoing review which is the development of standardized Admission order sets that will help provide timely care to CF patients admitted to floor. A uniform infection control policy will be initiated in accordance with the CFF guidelines. Standardized Discharge order sets will help avoid errors when patients are discharged home and will contain clear follow up instructions along with their medication list.
I plan to see the inpatients regularly on daily basis and available on weekend for emergencies and at nights. These patients will be discussed in our weekly Multidisciplinary CF meetings to plan their progress and any social issues. In addition, weekly CF meetings will include discussion of all the clinic patients prior to their appointments.
A great need in medicine today is the education of future adult healthcare providers to care for individuals with "pediatric" diseases. I will participate in education of house staff, students and Fellows by Lecture series, yearly conference and daily rounds on CF patients. Educational experiences for nursing and other ancillary providers will be readily available and their participation will be welcomed. The Adult Pulmonary Fellows will be participating in weekly CF Clinic to get Adult CF exposure during their Pulmonary training.
Research
In our endeavor to advance the knowledge and innovation of treatment in CF, the Adult CF Program will actively enroll in CFF and industry sponsored research trials. In addition, I plan to apply for institutional support for funding for an investigator initiated study looking at role of inhaled ascrobic acid in cystic fibrosis pulmonary disease.
Coupled with our research efforts, I will be enrolling the Adult Program with CFF Quality Initiative LLC program. Our team will also participate in mentoring plans via CFF at each level to improve overall quality of care delivered to our patients. It is our global aim to move our program into the top quartile in all quality measures of the CFF.
As I hope you have seen, my mission is to provide the best possible care to the people of Virginia and appropriately utilize the resources of the Cystic Fibrosis Foundation. I want to dedicate myself to care for Cystic Fibrosis patients and give them hope to breathe better.