J. Christian Barrett, MD
Associate Chair for Clinical Affairs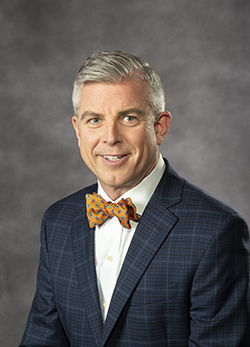 Division of Hematology, Oncology & Palliative Care
Department: Internal Medicine
Phone: (804) 828-9723
Email: john.barrett@vcuhealth.org
J. Christian Barrett, M.D., is the Associate Chair for Clinical Affairs and the Associate Chair for Education, as well as the Medical Director of the Central Virginia Center for Coagulation Disorders and the Fellowship Program Director for the Hematology-Oncology Training Program. He is also a Professor of Medicine. Dr. Barrett joined the faculty in the Division of Hematology, Oncology, and Palliative Care at VCU in 2005.
His areas of clinical activity are in benign and malignant hematology with a focus on coagulation disorders. He is a member of the American Society of Hematology (ASH) and the American Society of Clinical Oncology (ASCO) serving on the ASCO Integrated Media and Technology Committee.
Dr. Barrett received his undergraduate education at the University of Notre Dame in South Bend, IN. He earned his M.D. degree from the University of Louisville in Louisville, KY. He completed his internal medicine internship and residency training along with his hematology-oncology fellowship training at the University of Alabama at Birmingham. He joined the faculty of the University of Alabama at Birmingham in the division of hematology-oncology upon completion of his fellowship. He then made the move to private practice in hematology – oncology in Louisville, KY where he was a partner for five years at Consultants in Blood and Cancer prior to moving to Richmond, VA, and VCU.