Wally Smith, MD
Director, VCU Adult Sickle Cell Program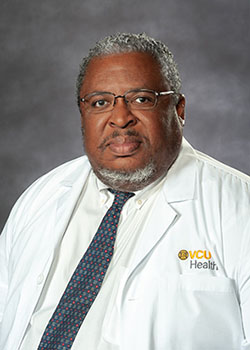 Division of General Internal Medicine
Department: Internal Medicine
Email: wally.smith@vcuhealth.org
Wally R. Smith, MD is the first recipient of The Florence Neal Cooper Smith Professor of Sickle Cell Disease, the second African-American female chair in the United States. He also serves as the Vice-Chairman for Research of the Division of General Internal Medicine and is the former Scientific Director of the Center on Health Disparities at Virginia Commonwealth University. In addition he was a member of the Institute of Medicine's Committee on Standards for Trustworthy Guidelines. He has authored over 100 publications, and served as an investigator on over 50 externally funded grants and contracts, including principal investigator on 26 federal or foundation-funded grants and contracts.
Dr. Smith is an experienced implementation scientist and an expert in clinical and health services research in sickle cell disease. He has been the principal Investigator of the ARRA-funded (Agency for HealthCare Research and Quality) grant, Comparative Effectiveness of Virginia Coordinated Care versus the Traditional Safety Net Delivery System, which utilized both qualitative and quantitative population assessment methods. His has also served on study sections for AHRQ, Health Resources and Services Administration, National Library of Medicine, and Veteran's Administration Health Services Research and Development. In addition, he was the Principal Investigator of PiSCES, (R01 HL 64122, Pain in Sickle Cell Epidemiology Study, the largest and most detailed adult cohort study of sickle cell pain, which changed our understanding of SCD pain in adults, led to an NIH Request for Proposals on the Neurobiology of Pain in Sickle Cell Disease, and led to my becoming a member of the Interagency Pain Research Coordinating Committee for DHHS, and now NIH's Helping to End Addiction Long-term (HEAL) Initiative Multi-disciplinary Working Group. This working group will provide input on HEAL research and develop draft recommendations to help ensure that the HEAL Initiative meets its bold goals. Since 2012, he has been PI of likely the first-ever randomized controlled trial of implementation science in SCD, Start Healing in Patients with Hydroxyurea (SHiP HU, R18HL112737). Thus, he is extremely well-qualified to serve as PI of this SCD Implementation Science proposal.
Dr. Smith has been associated with the development of two potential lead compounds for sickle cell disease at VCU. He has been extraordinarily successful at recruitment of sickle cell patients into clinical research, enrolling over 450 patients in 10 years. His latest NIH-funded grant, SHIP HU, randomizes patients to receive patient navigators to enhance patients' adherence to hydroxyurea.