Program Overview & History
The Dr. Carolyn McCue Award for Woman Cardiologist of the Year is a program of the VCU Health Pauley Heart Center, made possible by a grant from the McCue family. The award honors the late Carolyn Moore McCue, MD, who was a national pioneer in pediatric cardiology.
The award was established in 2008 and again presented in 2009, and will now resume in the year 2022. Past recipients include: C. Noel Bairey Merz, M.D. (2008), Elizabeth G. Nabel, M.D. (2009). The award carries a monetary prize of $7500 and is presented at the Heart Health in Women Symposium held in Richmond, Virginia annually.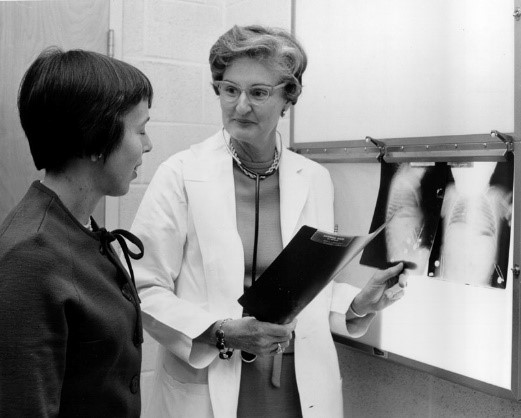 The award is limited to a woman Adult or Pediatric cardiologist who is currently practicing in the United States. The candidate must be a U.S. citizen, possess an M.D. degree, and be 10 years or more post-med school. The candidate must have had an academic affiliation for the majority of her career. The candidate must be a woman cardiologist who is recognized nationally/internationally for important contributions to the general field of Adult or Pediatric Cardiology through clinical care, research, teaching, and leadership in mentoring. While a candidate may not be outstanding in all of these skills, she must excel in one or more. Candidates may self-nominate or be nominated by a peer.

Nominations for the Dr. Carolyn McCue Award for Woman Cardiologist of the Year will be accepted between February 6, 2021- April 15, 2021 via online application. Presentation of the Award and a monetary prize of $7500 will be made at the Heart Health in Women Symposium in Richmond in February 2022. The awardee will also be asked to give a 30-minute scientific presentation at the Symposium.

In addition to the completed nomination form, the package must include:
A description of the physician you are nominating, including an explanation of significant contributions she has made to cardiovascular medicine, what patient population she serves, funding she has received to support her efforts, and examples of her leadership and dedication to her profession and her patients. (Response should be typewritten and limited to 800 words.)
Nominee's curriculum vita
A minimum of two, and up to four, letters of support.