Curriculum
Program Goals & Objectives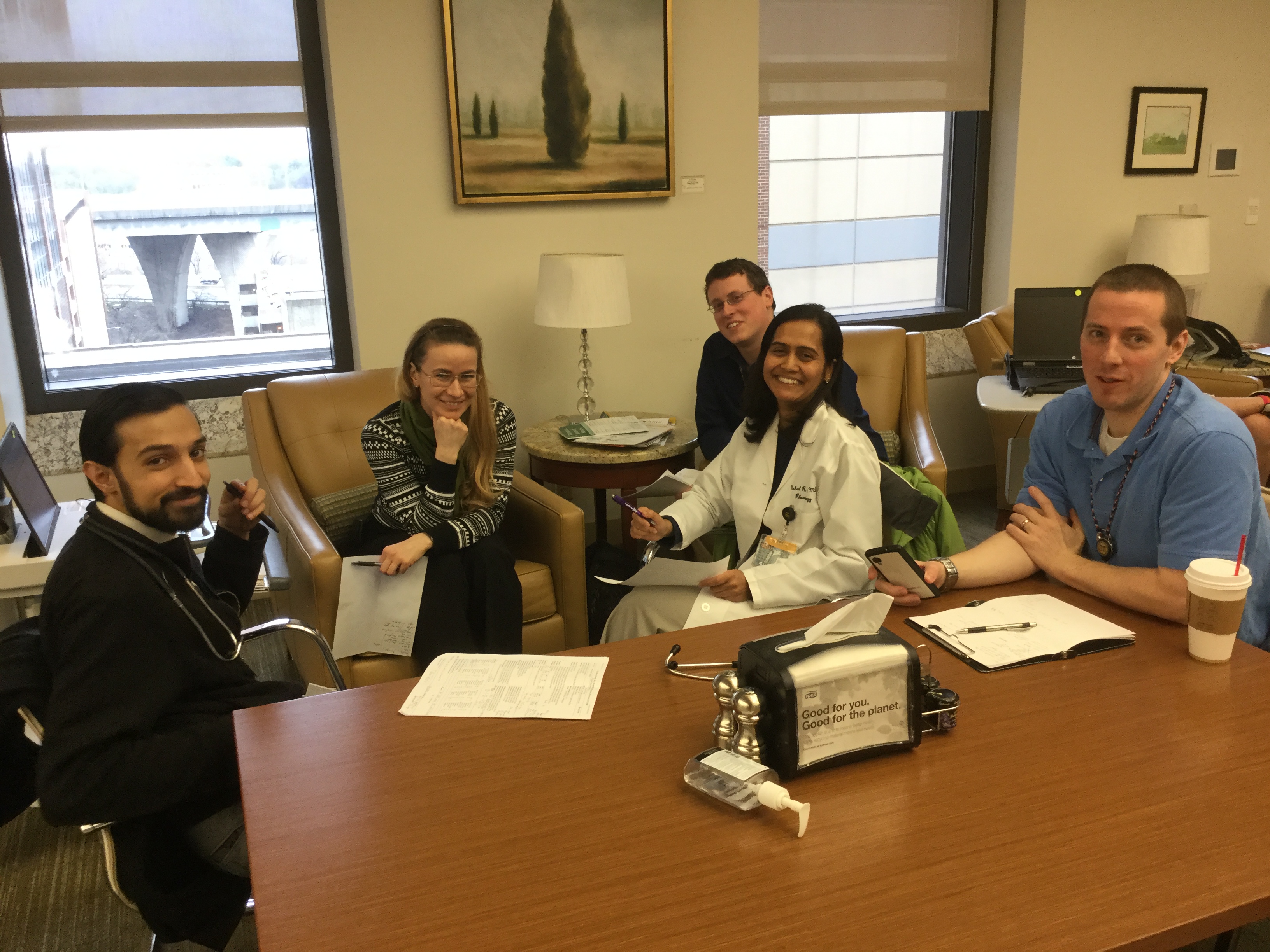 This is a three-fellow, two-year rheumatology fellowship, with either one or two new fellows entering each year. We will interview and match to fill two positions starting 1 July 2020. Our aim is to produce proficient clinician practitioners and clinician educators with teaching skills and background to teach and practice evidence-based health care. The program is designed to satisfy the ABIM requirements for rheumatology subspecialty examination.
Tracks
In accordance with the observation of Joseph Joubert (French moralist and essayist), "To teach is to learn twice over," we believe that that those destined to become clinicians will gain just as much from teaching experiences as future clinician educators. Thus, we have a single track for future rheumatology clinicians and future clinician educators.
Typical Schedule
VCUHS Inpatient Consult Rotation

(20% outpatient time)
VAMC Outpatient Clinic and Inpatient Consult Rotation

(80% outpatient time)
Selective Experiences/Research Rotation (four months yearly)

(20-50% outpatient)
Rotations
There are three rotations, each lasting four months yearly:
VCUHS Inpatient Consult Rotation

, where each fellow encounters a large variety of inpatient inflammatory rheumatic disorders and diagnostic problems.
VAMC Outpatient Clinic and Inpatient Consult Rotation

, where each fellow encounters common bread-and-butter rheumatology problems.
Selective Experiences and Research Rotation, in which each fellow selects experiences among diverse choices and participates in research and scholarly activity.
The rotations are the same for first- and second-year fellows, but the expectation is that each fellow will assume more and more responsibility regarding patient care during the fellowship. Rheumatology fellows have reasonable work hours with a favorable balance between clinical service and education.
During all three rotations, the fellows attend the half-day VCUHS outpatient arthritis continuity clinic staffed by seven fulltime VCUHS-based faculty rheumatologists and including residents in internal medicine and other subspecialties as well as medical students. This clinic involves a team approach supported by nurses and social workers. The patient panel includes mostly inflammatory arthritis, lupus, sarcoidosis, scleroderma, and myositis but also an aggregation of rare conditions.
The VCUHS rotation is based on conducting a busy inpatient rheumatology consult service supervised by a rheumatology faculty attending. The consults are typically diagnostic and management problems involving inflammatory rheumatic disorders like SLE or vasculitis, or diagnostic problems ranging from gouty arthritis to obscure conditions like focal isolated aortitis or fever of unknown origin. This is also a time when fellows study about diverse inflammatory rheumatic disorders.

The VAMC rotation is based on conducting outpatient clinics with infrequent inpatient consults, all supervised by VAMC staff rheumatologists. The clinics include a new patient clinic, a toxic medications clinic (so-called Gold Clinic, so named because of the historical importance of gold therapy), a follow-up clinic for less severe rheumatic disorders, and a procedures clinic. This is also a time when fellows learn about common outpatient rheumatic disorders including soft-tissue rheumatism and managing medications and biological products.
The Selective Experiences-Research/Scholarly Activity Rotation is a time in which the fellow has license to pursue chosen clinical experiences and generate new knowledge. The selective experiences portion is based on these activities:
Attending selective experiences chosen among these: musculoskeletal ultrasound, metabolic bone disease, dermatology, pediatric rheumatology, physical medicine & rehabilitation, EMG-nerve conduction, musculoskeletal ultrasound, hand surgery and hand therapy, operative orthopedic surgery, sports medicine, podiatry, and community-based hospitals and clinics.
Attending a continuity clinic for patients on toxic DMARDs at the VAMC.
Developing expertise in fields relevant to clinician educator roles
Reading chapters in rheumatology textbooks about selective experiences, such as chapters on metabolic bone disease, or on pediatric rheumatic disorders, or musculoskeletal radiology.
For the Research/Scholarly Activity part of the rotation, we expect that each fellow will participate actively in generating at least one publishable product. Research and scholarly activity might include projects based on active research in the Division and elsewhere in the School of Medicine, such as the following subjects:
Immunology and biochemistry of mast cells, mast cell/basophil differentiation, enzyme biochemistry, immunoassay development, molecular biology, transcriptional regulation of mast cell proteins. Mast cell biology in relationship to scleroderma.
Interstitial lung disease in inflammatory rheumatic disorders
Malignancies in patients with rheumatoid arthritis
Pain intervention in knee arthroplasty patients, and studies of natural history of osteoarthritis
Systematic reviews or meta-analyses of important rheumatic disorder topics. (We expect this to grow as a scholarly pursuit with the evidence-based clinical practice emphasis.)
Curriculum development for medical student teaching, such as working with Dr. Rubinstein to formulate the new team-based learning M-2 curriculum.
Practice-based quality improvement project, with a new project added annually and continued as appropriate. Our Division's current project is designed to monitor steroid use in lupus in our outpatient teaching clinic, with a goal of reducing steroid use overall by a combination of regular reminders and ensuring regular follow up of all patients taking more than five mg of prednisone daily.
Projects related to sarcoidosis, including pregnancy issues and overlap of classical inflammatory rheumatic disorders with sarcoidosis.
Conferences
Fellow-driven rheumatology board review

(weekly at VAMC). At the current time, this alternates between rheumatology text reading of pathophysiology chapters, and online clinical questions and answers with directed readings of supportive evidence.
Evidence-based clinical practice journal club

(weekly at VAMC) fosters skills in appraising evidence in rheumatology context about diagnostic tests, harms, prognosis, therapy, systematic reviews, practice guidelines, qualitative research, and quality improvement. The aim is to help future clinicians practice and teach evidence-based medicine. Presentations are done by fellows and faculty.
Zebra conference

(weekly at VAMC) aims to achieve familiarity with uncommon rheumatic conditions not typically encountered in routine rheumatology practice. The format is to present cases as unknowns and then review pertinent features. This is presented by fellows with faculty input.
Basic science journal club

(weekly at VCU). All Division members attend, and the conference based on journal articles relevant to rheumatology and clinical immunology from selected high-quality journals. The aim is to understand basic science investigation and methods, with preparation by precepted one-on-one tutorials. Both faculty and fellows present.
Division grand rounds

(weekly at VCU): This is a conference presented by faculty or fellows with topics relevant to rheumatic disorders or allergy-clinical immunology.
Hard cases conference

(weekly at VCU) is an informal conference held over lunch at the end of continuity clinic. This is a time when faculty and fellows may present unusual or instructive clinical management problems and discuss them.
Radiology conference (twice monthly at the VCUHS and once monthly at the VAMC

)

is a conference conducted by an attending musculoskeletal radiologist who reviews studies submitted by fellows and faculty. Both fellows and faculty attend. There is an additional structured radiology plain-film curriculum that occurs once monthly at the VAMC.
Ultrasound Conferences (twice monthly) is a formal ultrasound curriculum that is place for our rheumatology fellowship. Didactics occur approximately twice monthly (once monthly at the VAMC and once monthly at the NOW Center). Additionally, the VAMC physicians have recently implemented a formal clinic visit dedicated to diagnostic ultrasound techniques while you are on the VAMC rotation.

Unique Learning Opportunities
This rheumatology fellowship program has various opportunities aiming to prepare its fellows for subsequent first jobs as clinical practitioners and clinician educators.
Mentoring and career guidance is provided through interaction with the fulltime faculty members. The Division has placed particular emphasis on developing mentor skills through faculty development sessions and retreats emphasizing expectations, communication, understanding, independence, ethics, and diversity. The Office of Graduate Medical Education in the VCU School of Medicine also provides Transitions to Practice, an annual series for housestaff designed to help the transition from trainee to practicing physician. The topics include cv writing, cv review by experts, contract negotiations, visa options & employment contracts, how to manage student debt, evaluating practice options, financial planning, and time management.
Research for Residents & Fellows is a once-weekly early evening program conducted for nine weeks by the School of Medicine for medical residents and fellows. The program is designed to be an introduction to research. Each session begins with a 15 ‐ 20 minute mini ‐ lecture, followed by 55 ‐ 60 minutes of small group work. The groups are interdepartmental and are facilitated. Participants have the opportunity to work with junior faculty members, K‐scholars, experienced researchers, and fellows as they work with the material. Group work activity focuses on the application of concepts so that all participants get "hands-on" experience with topics such as formulating a research question, designing a survey, writing an IRB proposal, etc. This program aims to prepare fellows for conducting clinical research.
Development of fellow clinical teaching skills. As noted in the program director's letter above, the Division's faculty and fellows have participated in a Stanford Clinical Teaching Course, a curriculum aimed toward developing clinician educator skills in order to enhance versatility as teachers, to develop ability to analyze clinical teaching using an educational framework, and to provide a forum for collegial exchange. The instruction has been in the form of an intensive workshop to learn the basics of how to facilitate small group learning, deliver feedback, engage the learners in deliberate practice, and use microskills for teaching as a preceptor. The fellows also participated in faculty development sessions on evidence-based learning strategies and teaching clinical reasoning. The fellows also are instructed in how to teach consulting residents through a video-assisted session. The precepting techniques developed and applied for outpatient clinics include one-minute preceptor and SNAPPS+. We expect our fellows to learn and carry on this tradition so that our fellows not only benefit from great teaching but also learn to teach well as clinician educators.
Musculoskeletal Curriculum for medical students. Dr. Rubinstein is course director for the VCU School of Medicine Movement (Musculoskeletal) course. She has been involved in the transition of the VCU School of Medicine curriculum to a more active learning environment for the students. She has involved the rheumatology fellows in writing new teaching modules, including small-group, case-based exercises as well as team-based learning modules for use during this comprehensive course. This provides a unique opportunity for rheumatology fellows to be involved in the education of medical students, starting with inception of a module and continuing through with the leading the module during class. Such activity is aimed to help prepare rheumatology fellows to become clinician educators.
Attendance at outside meetings, such as the introductory course for first-year fellows at University of Pennsylvania, the Virginia Society of Rheumatologists, the ACR state-of-the-art clinical course, and the national ACR meeting, is highly encouraged and supported. Financial support is provided by the VSR for its meeting, and the Rheumatology Research Foundation supports ACR attendance through Fellows-in-Training scholarships. The aim is to provide our fellows with the best possible preparation for future clinical care and to develop a network of rheumatology associates.
CARE (Continuing Assessment, Review, and Evaluation) is an online self-assessment tool designed to assess the rheumatology knowledge base of physicians sponsored by the American College of Rheumatology and used by the fellows for board review. All CARE questions have been placed through an exhaustive review and validation process to ensure clinical relevance. Dr. Wise is a member of the CARE 2014 Development Faculty; the CARE program is the basis for the ACR's Maintenance of Certification courses for which Dr. Moxley has been a faculty member.
Virginia Commonwealth University also offers graduate courses in basic sciences like immunology and public health like epidemiology. The Master of Science in Clinical and Translational Sciences program provides training and mentoring for future investigators who, regardless of primary area of interest, will be able to understand the methods and techniques used along the pathway from the bench to the bedside. The program offers a broad foundation of core courses and emphasizes the importance of interdisciplinary approaches to research. The program provides a sound foundation in clinical and translational research principles and thereby prepares the student to engage in many components of investigative processes. Details are at http://www.cctr.vcu.edu/education/masters.html
Institutional environment. High-quality child care is available on the medical campus near VCU Hospital. The VCUHS uses a CERNER electronic medical record for inpatient and outpatient recordkeeping, and all notes, labs, images, and prescribing capabilities are available remotely. VCUHS has been designated twice by the American Nurses Credentialing Center as a Magnet hospital, the most prestigious honor and level of recognition awarded for nursing excellence in national and international health care. The American Hospital Association has awarded VCU Medical Center with its top 2014 honor for leadership and innovation in safety and quality improvement, the AHA–McKesson Quest for Quality Prize®, in part because of training that resulted in a 50 percent reduction in serious safety hospital events, an electronic early warning system that alerts caregivers in real time of a patient's declining health status and a community clinic that has enhanced care management and care coordination for the sickest, poorest patients. Finally, the VCU Women in Science, Dentistry & Medicine (WISDM) organization was established in 1992 to further the professional goals of VCU women physicians, scientists and dentists. It sponsors forums for open communication and facilitates networking, mentoring and collaboration among women faculty, housestaff and medical, dental and graduate students.