Curriculum
Program Overview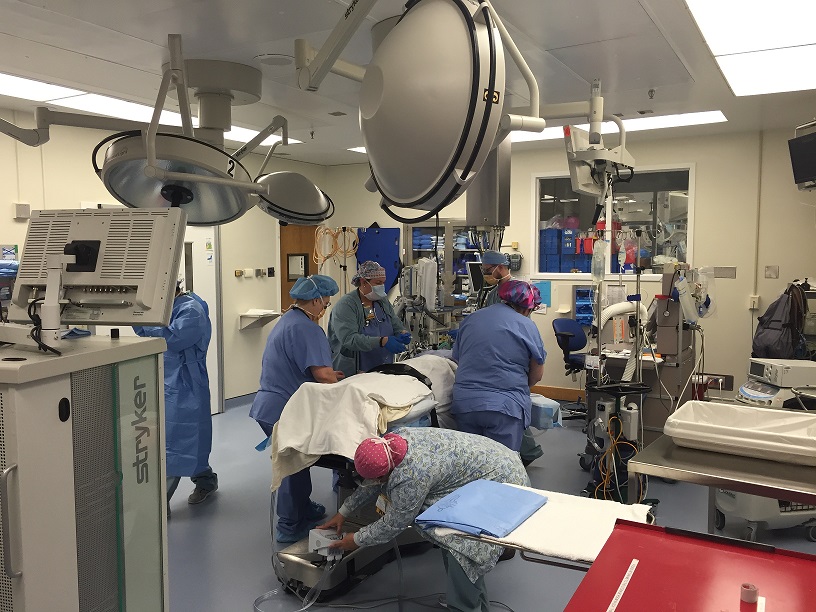 The first year of fellowship is a clinical one, aimed at teaching fellows the basic aspects of pulmonary medicine and critical care medicine. Rotations therefore are primarily in the medical ICUs as well as the pulmonary consult services, including both general and interventional pulmonary.
The second and third years of fellowship are aimed at refining and expanding the knowledge gained during the first year and are structured to support the development of each fellow's career interests. Elective time is used to gain more clinical experience outside the typical medical ICU or pulmonary consult setting, to gain research experience, and to pursue other scholarly projects.
Click on the following links to learn more about the Curriculum of the Pulmonary Disease and Critical Care Medicine Fellowship Program:
Program Goals & Objectives
This is a three-year combined pulmonary and critical care medicine (PCCM) fellowship designed to prepare the post-graduate resident (fellow) for a career in pulmonary and critical care medicine by providing extensive clinical training, basic or clinical research experience, and teaching responsibilities. These skills will be developed in an environment that fosters scholarship and inquiry. This advance education will ensure that the graduating fellow will possess the knowledge and skills necessary for independent practice in the field of PCCM. This will be accomplished with an emphasis on the following objectives:
The fellow will develop an understanding of the scientific and clinical principles of pulmonary and critical care medicine.
The fellow will develop the clinical and procedural skills required for the practice of pulmonary and critical care medicine through direct observation and management of both inpatients and outpatients with a variety of pulmonary disorders and critical care illness.
The fellow will be supervised and evaluated by qualified faculty in these encounters.
The fellow will be given graded authority and responsibility based on their performance.
The fellow will be provided opportunities in basic science and/or clinical research to foster better understanding of these fields and their integration in clinical practice and/or to develop a career in academic medicine.
The fellow will be provided with an environment that fosters practice-based learning and the development of teaching skills.
The fellow will be instructed in and follow the principles of medical ethics and professionalism.
The fellow will develop an understanding, awareness and responsiveness to the principles of systems-based practice.
Typical Rotation Schedules
Rotation Descriptions
Pulmonary Consults (VCUHS and McGuire VAMC)
The consult service consists of a PCCM faculty and fellow as well as IM interns, residents and M4 students. They are responsible for all inpatient consults, and these may include both general pulmonary and critical care issues. The team is also responsible for the performance of inpatient and outpatient bronchoscopies as well as interpretations of pulmonary function tests. The patients present a broad range of acute and chronic pulmonary problems, ranging from bread-and-butter pulmonary medicine to the more complex, unusual cases typical of a major academic center.
Interventional Pulmonary (VCUHS)
Our IP program is the largest and most established program in the state, attracting referrals from across Virginia. Fellows are exposed to a wide variety of procedures including Endobronchial Ultrasound, Rigidl Bronchoscopy, Laser, Stent Placement, Bronchial Thermoplasty, Pleuroscopy, and Percutaneous Tracheostomy to name a few. Fellows get extensive, direct, hands-on experiences in these procedures. The fellows also attend the multidisciplinary Chest Tumor Clinic.
Ambulatory Experience (VCUHS and McGuire VAMC)
General pulmonary clinic, ½ day all three years, 18 months at VCUHS and 18 months at VAMC. Referals come from throughout the region. Each clinic is fully supervised by PCCCM faculty and may also include students, interns and residents who are rotating through.
Fellows' Perspectives on the Program
"Our attending physicians are simply the nicest and most energetic faculty in our healthcare system -- it was one of the many reasons why our division has won "Best Teaching Division" multiple years in a row."
Adam Kaiser, MD

Critical Care | MRICU (VCUHS)
The MRICU (or Medical Respiratory ICU), is a 28-bed unit located in our 11-story Critical Care Hospital (the state's first dedicated Critical Care Hospital). This is a closed unit staffed by two full teams, each including a PCCM fellow, a PCCM attending, IM residents, interns, and a Critical Care PharmD.

The unit is a busy, urban ICU that receives admissions directly from our ED, from various inpatient services (ranging from IM to surgery to OB-GYN), and from referral hospitals throughout the state. The patients represent some of the most complex, acutely ill cases in the state, affording our fellows a tremendous educational experience.

Fellows get extensive hands-on expeience including ventilator and airway management, critical care ultrasound, percutaneous tracheostomy, and bronchoscopy. We are fortunate to have a true multidisciplinary team model, including physicians, pharmacists, nurses, respiratory therapists, and nutritionists.

• The MRICU was awarded the American Association of Critical Care Nurses' Beacon Award for critical care excellence in 2010, placing it among the top ICUs in the nation. •
MRICU (VAMC)
This is a 12-bed ICU staffed by a PCCM attending, a PCCm fellow, residents and fellows. Again, the teaching is excellent and the PCCM fellow are a key part of the team.

Cardiothoracic Surgery ICU (VCUHS)
We are fortunate to have a very active and aggressive Cardiothoracic Surgery Program. The patients in this ICU benefit from the many exiting clinical programs including the development of minimally-invasive surgical techniques for vavular heart disease; coronary artery bypass surgery; diagnosis, staging and treatment of benign and malignant pulmonary and espophageal diseases; the development of a mechanical circulatory support program including multiple types of ventricular assist devices and total artificial hearts; and active heart transplant program; and the development of surgical approaches to treat cardiac arrhythmias including atrial fibrillation. The CSICU also runs a very robust ECMO program. Fellows work with both the surgeons and a critical care attending in helping to care for these patients. Fellows typically spend a month late in their second year or during their third year.
Neuroscience ICU (VCUHS)
This 18-bed ICU includes patients form both the Neurology and Neurosurgical Teams who are co-managed with a critical care attending. The ICU specializes in the care and treatment of patients who have suffered from stroke, traumatic brain injury, spinal cord injury and other neurological and neurosurgical conditions. In 2010, the NSICU joined the MRICU and the STICU in being awarded the Beacon Award for critical care excellence. Fellows typic.ally spend one month here late in their second year or during their third year.
Surgical Trauma ICU (VCUHS)
VCU Medical Center is a nationally recognized Level I trauma center. The STICU rotation affords fellows the opportunity to participate in the management of critically ill surgical patients as well as the principle and management of trauma patients. Fellows work directly with ICU attendings certified in Critical Care and Trauma Surgery.
Research
Thoracic radiology (All of our fellows rotate with the Thoracic Radiology Division for one month, learning the basics of chest imaging, from plain film to dynamic CT)
Sleep medicine
Thoracic Surgery
Pathology
Pulmonary rehab and cardiopulmonary exercise testing
Respiratory therapy and PFT lab
Anesthesia
Outpatient pulmonary clinics
Pulmonary Hypertension
Cystic Fibrosis
Others: CCU, ECHO, ENT, allergy, nephrology/dialysis, infectious disease, private practice, lung transplant, bone marrow transplant.