Program Leadership
Program Director, Hematology-Oncology Fellowship
J. Christian Barrett, MD
Division Chair, Division of Hematology, Oncology and Palliative Care
Steven Grossman, MD, PhD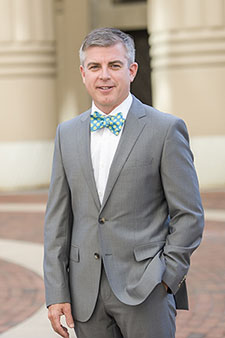 Following his fellowship, Dr. Barrett joined the faculty at UAB where he was an assistant residency program director and the associate fellowship director. After leaving Alabama, he joined a successful, private hematology/oncology practice in Louisville, KY. Dr. Barrett came to VCU in the summer of 2005 and quickly established himself within the institution. He assumed the directorship of the Central Virginia Center for Coagulation Disorders, a role he continues to fill. Dr. Barrett served as an associate program director of the Internal Medicine residency-training program from 2005-11. In 2011, he assumed his role as Program Director for the Hematology/Oncology fellowship. Dr. Barrett enjoys working with medical students at all levels of training and currently directs the MS-II Marrow Division (the Hematology-Oncology pathophysiology course).
Dr. Barrett is a husband and the father of three girls. He loves the time he spends with the girls and is proud of their aggressive outdoors spirits – boasting of their first alpine mountain summit at ages 3 (on his back), 5, and 7.
J. Christian Barrett, MD
Professor of Medicine
Program Director, Hematology-Oncology Fellowship
john.barrett@vcuhealth.org
---
Steven R. Grossman, M.D., Ph.D., an internationally recognized expert in gastrointestinal cancers, joined VCU in July 2011 from the University of Massachusetts Medical School in Worcester, Massachusetts. Dr. Grossman received his undergraduate degree from Princeton University and his medical and doctoral degrees from the University of Chicago. He completed a residency in internal medicine at the Harvard Medical School affiliated Brigham and Women's Hospital in Boston, and completed a fellowship in medical oncology and postdoctoral research training in the laboratory of David Livingston, M.D., at the Dana-Farber Cancer Institute in Boston.
Dr. Grossman, the Deputy Director and Dianne Nunnally Hoppes Endowed Chair in Cancer Research at VCU Massey Cancer Center, is a researcher and physician with specific clinical and research interests in gastrointestinal cancers. He is also an accomplished scientist who currently holds a National Institutes of Health grant to support his research examining the role of tumor suppressor proteins in cancer. Building on this research, he is developing a potentially new way of treating pancreatic cancer.
As deputy director of Massey Cancer Center, Grossman will lead the planning and development of disease-specific scientific research groups; oversee clinical oncology interactions; and develop strategic initiatives in new multidisciplinary research areas. All of these activities are of great importance to the cancer center and will help position Massey for success during the next National Cancer Institute competitive review in 2016, where the center hopes to achieve Comprehensive status, the highest level of NCI Designation.
Dr. Grossman is a past recipient of a Research Scholar Award from the American Cancer Society, the Kimmel Scholar Award from the Sidney Kimmel Foundation for Cancer Research, and a Howard Temin Award in Cancer Research from the National Cancer Institute. Both prestigious grants support the work of researchers advancing the understanding of basic cancer biology and the development of new methods for its prevention and treatment.
Dr. Grossman is Director of the ABIM research track and an active participant on the M.D., Ph.D. Steering Committee and also serves as Medical Director of the Oncology Service Line for the VCU Health System.
Steven R. Grossman, MD, PhD
Professor of Medicine
Chair, Division of Hematology, Oncology & Palliative Medicine
steven.grossman@vcuhealth.org