Program Leadership
Program Director, Endocrinology, Diabetes and Metabolism Fellowship
Edmond Wickham, MD

Division Chair, Division of Endocrinology, Diabetes and Metabolism
Francesco S. Celi, MD, MHSc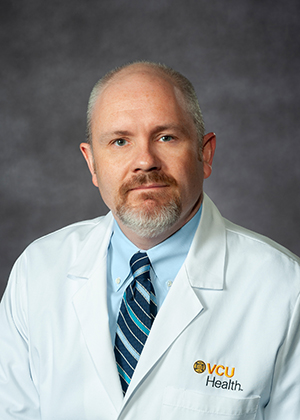 Dr. Edmond "Trey' Wickham, Associate Professor of Medicine and Pediatrics, serves as the Program Director for the Endocrinology Fellowship Training Program at Virginia Commonwealth University. Dr. Wickham obtained his B.A. in Environmental Science from the University of Virginia and then completed his medical training at Virginia Commonwealth University. At VCU, Dr. Wickham completed combined residency training in Internal Medicine and Pediatrics followed by fellowship training in Endocrinology, Diabetes and Metabolism. Dr. Wickham is also certified in obesity medicine. Dr. Wickham's clinical practice focuses on the care of patients with obesity, type 1 and type 2 diabetes mellitus, ranging from youth to adults, and he is has repeatedly been recognized as one of Richmond's "Top Docs".
In addition to his clinical practice, Dr. Wickham is a National Institutes of Health-funded clinical investigator. He is the former recipient of a K23 Clinical Research Career Development Award from the Eunice Kennedy Shriver National Institute of Child Health and Human Development (NICHD) and is currently the Principal Investigator for two NIH awards and a Coinvestigator on several other NIH projects. Dr. Wickham's research portfolio is focused on the pathophysiology and treatment obesity across the lifespan.
Dr. Wickham educational interests including the role of motivational interviewing in enhancing the care of patients, reducing stigma and bias for patients with obesity and diabetes, and the use of simulation in fostering trainees' attitude and skills regarding diabetes self-management.
Edmond Wickham, MD
Associate Professor
Program Director, Endocrinology, Diabetes and Metabolism Fellowship
edmond.wickham@vcuhealth.org
---
Dr. Francesco S. Celi is Chair of the Division of Endocrinology and Metabolism. Prior to coming to VCU Medical Center, Dr. Celi served as a Clinical Investigator at the National Institute of Diabetes and Digestive and Kidney Diseases (NIDDK) at the National Institutes of Health in Bethesda, MD. Additionally, Dr. Celi also comes from an appointment as Clinical Associate Professor of Medicine in the Division of Endocrinology, Diabetes and Nutrition at the University of Maryland in Baltimore, MD.
Dr. Celi's clinical areas of interest include thyroid disorders and thyroid cancer. Dr Celi's research has focused on the homeostasis of thyroid hormone, with an emphasis most recently on the interactions among brown fat, energy expenditure, and thyroid hormones. He was most recently Principal Investigator on ten intramural NIDDK protocols; a member of several committees of the American Thyroid Association; on the Editorial Board of the Journal of Clinical Endocrinology and Metabolism; and author of over 50 original scientific reports and 12 reviews and book chapters, including a recent single-author review on brown adipose tissue in the New England Journal of Medicine.
Dr. Celi received his MD degree from the University of Rome, La Sapienza, and his Masters in Health Sciences from Duke University. He completed residency training in Geriatrics at the University of Rome, Sapienza; residency training in Internal Medicine at the Greater Baltimore Medical Center; a research fellowship in Geriatrics at Johns Hopkins University and the National Institute on Aging at the NIH; and a clinical fellowship in Endocrinology at the University of Maryland. He served as Assistant Professor at the University of Maryland before joining the NIDDK in 2003 as a Staff Clinician and Clinical Investigator in the Diabetes, Endocrinology, and Obesity Branch of the NIDDK.
Francesco S. Celi, MD, MHSc
Professor
Division Chair, Endocrinology, Diabetes and Metabolism Fellowship
fracesco.celi@vcuhealth.org