W. Gregory (Greg) Hundley, MD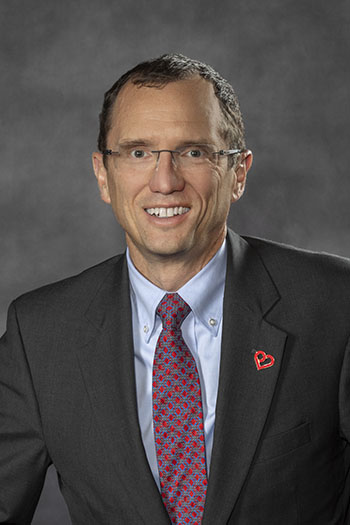 W. Gregory (Greg) Hundley, M.D., is the Chair of the Division of Cardiology, and the first Director of the VCU Health Pauley Heart Center, a position he has held since 2018. Born and raised in Richmond, Virginia, Dr. Hundley began his formal education at the College of William and Mary, where he graduated with his bachelor's degree in Biology. He earned his M.D. from the VCU School of Medicine and completed his Internal Medicine residency at University of Texas Southwestern Medical Center, where he also received his Cardiovascular Medicine Fellowship training.

Dr. Hundley is a Fellow of the American College of Cardiology; a member of the Clinical Cardiology Council of the American Heart Association; and a member and past Board Member of the Society of Cardiovascular Magnetic Resonance in Medicine. Additionally, he is the Associate Editor for Cardiology Today and the American Heart Association's (AHA) publication, Circulation. He serves on the Editorial Board for the Journal of the American College of Cardiology (JACC), JACC: Cardiovascular Imaging, JACC: Cardio-Oncology, Circulation Imaging, and the American Journal of Cardiology. He is the weekly co-host of the AHA podcast, Circulation on the Run. Prior to joining VCU Health, Dr. Hundley served as the Medical Director of the Reynolds Tower Cardiovascular Imaging Facility at Wake Forest School of Medicine.

He has served as Chair of Extramural Live Programs in Education at the American College of Cardiology (ACC), Director of the ACC and Society for Cardiovascular Magnetic Resonance Extramural Live Program on Cardiovascular Magnetic Resonance (CMR) and Cardiac Computed Tomography (CCT), and Chair of Clinical and Integrative Cardiovascular Sciences Study Section at the National Institutes of Health. He is also a member of the ACC Integrated Learning Committee, Cardiovascular Imaging Committee and Co-Directs the American College of Cardiology Cardiovascular Diseases Board Review Course for the American Board of Internal Medicine Cardiovascular Diseases examination. He is a permanent member of the NHLBI Institutional Training Mechanism (NITM) study section.

Dr. Hundley was the first in the world to demonstrate that magnetic resonance imaging (MRI) stress testing can identify individuals at risk of heart attack. Additionally, he pioneered the use of MRI technology to visualize and measure blood flow in coronary arteries. Dr. Hundley's research also focuses on preventive heart care for patients undergoing chemotherapy, which has been found to increase the risk of heart attack and other cardiovascular issues a decade or more after treatment. Dr. Hundley has over 20 years of continuous principal investigator peer-reviewed extramural funding from the National Institutes of Health with research addressing cardiovascular disease, heart failure, cardio-oncology, and training in cardiovascular diseases research. He has over 12 US and International Patents related to magnetic resonance image acquisition and processing, and his Principal and Co-Investigator peer-reviewed extramurally funded research programs have included studies of over 10,000 participants.

Dr. Hundley has authored 240 original articles, 38 review articles and position papers, 20 book chapters, and has more than 200 national and international presentations. Additionally, Dr. Hundley has trained more than 40 predoctoral and M.D., Ph.D., and M.B.A. degree holders worldwide.
W. Gregory (Greg) Hundley, MD
Professor of Medicine
Chair, Division of Cardiology
Director, Pauley Heart Center
Email: greg.hundley@vcuhealth.org